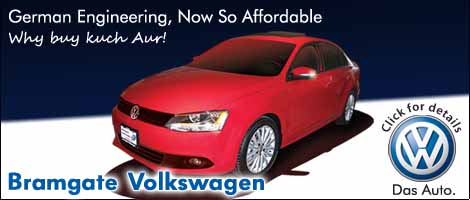 Welcome to another edition of Oye! Grapevine.
Oye! Sports Podcasts: Welcome to the 500 Level. Opinions, news and views on Toronto sports from the Upper Deck. Leafs, Raptors, Jays, Argos, TFC – nothing is off limits. It's good to be a fan! Your hosts Aman Dhanoa and Ben Trattner.
This week Aman and Ben discuss the end of the Leafs season, the final week of the Raptors season along with brief previews of the NHL and NBA playoff matchups. We also talk about the Toronto Blue Jays who are on a ten game roadtrip and Toronto FC's three games in seven days. In our Around the World segment, we touch on the Masters, Champions League, Indian Premier League as well as some basic rules of cricket.
Featured Articles:
Toronto Raptors Cut Down the New Jersey Nets 99-92 written by Aman Dhanoa.
Pictures: Baisakhi Night at the ACC – 2011 by JP Dhanoa.
Postcards from a Peaceful Divorce written by William Belle.
Suicide Bombers from Pakistan written by Hamid Abbasi.
Afridi's Speech – Diplomacy, Business & Brouhaha! written by Ashit Chandaria.
F-35 purchase has Harper Cornered! written by Steve Val.
What's wrong with the world? Women wearing pants! written by William Belle.
Oye! Contests:

Congratulations to Tara from Hull for correctly answering last week's music question and winning a Cineplex movie pass
Here's another chance to WIN another ONE Free Cineplex movie pass.
Question: Name the group singing this song.
Email your answer to inder@oyetimes.com
Some Upcoming Events:
Live Indian Music with Raziya and Saqib on Friday, April 15 at Santa Roza.
Movie night with Naya Raasta South Asian Divorced or Separated Group on Saturday, April 23.
Oye! Multimedia:

Oye! Videos offers a great selection of comedy and music videos. Have a look, enjoy some music and laughs.
Visit the Oye! Photo galleries to catch a glimpse of some pics taken by our members.
Oye! Times is proud to launch Oye! Radio in collaboration with Sareegamaa Radio. Now listen to your favourite Indian songs at work or home. 24 hrs a day. You can find a link to Oye! Radio on the right side of the website.
Advertising on Oye! Times is very economical and effective. Visit Oye! Media to promote your business or event on Oye! Times.
If you would like to contribute your writings to Oye! Times then please feel free to contact us.
We thank you for your past patronage, and look forward to your continued support.
Cheers!
Inder (Tel: 647 930 3791)
"Freedom's just another word for nothing left to lose"
All-New 2011 VW Jetta – German Engineering, Now So Affordable!

All-new 2011 Jetta – totally re-designed from headline to tailpipe, a beauty of defined purpose. It is where premium meets affordability, showcasing both luxury and purpose can co-exist in perfect harmony.
The new Jetta is priced so right and offered at 0% APR. You would wonder, Why Buy Kuch Aur !

Call Sudhir Luthra, Leasing & Sales Representative at 905-459-6040 or visit Bramgate Volkswagen today at 268 Queens Street East, Brampton.
Come for a test drive and get a nice gift as a thank you. (First 100 clients only)
Click HERE to read more about this offer.
Tiger Hills by Sarita Mandanna

The lustrous, epic debut novel about the undeniable pull of the heart's affections.

As the first girl born to the Nachimada family in over 60 years, the beautiful Devi is the object of adoration of her entire family. Strong-willed and confident, she befriends the shy Devanna, a young boy whose mother has died under tragic circumstances. The two quickly become inseparable, until Devi meets Machu the tiger killer, a hunter of great repute and a man of much honour and pride. It is this tangled relationship among the three that leads to a devastating tragedy—an event that forever changes their fates and has unforeseen and far-reaching consequences for generations to come.
"More than a love story, Tiger Hills explores the hazardous side of passion and the shackling grip of memory once love has been thwarted. It also vividly evokes Coorg itself—the coffee plantations, the European settlers, the age-old clans—offering an illuminating portrait of place through six decades of social change."—New York Times
Click HERE to read more and win 10 copies for your book club.
Win: Toronto Maple Leafs jersey signed by defenceman Luke Schenn


Oye! Times and Maple Leaf Sports & Entertainment have teamed up to give away a fantastic prize to our newsletter readers – a Toronto Maple Leafs jersey signed by defenceman Luke Schenn.
In order to qualify for our draw, all you have to do is correctly answer the following five questions and send your answers to aman@oyetimes.com. Remember to include your name and city in the e-mail and Leafs jersey in the subject line.
1) Name the Oye! Times reporter who covered the Leafs this season?
2) Name the goalie who nearly led the Leafs to the playoffs?
3) Which two prospects made their Leafs debut in the last game of the season against the Montreal Canadiens? (Hint article about the game can be found at here.)
4) Which Leaf ended the season on a ten-game point streak?
5) Where was Luke Schenn born?
The winner will be chosen from a draw on Saturday so stay tuned to next week's newsletter to see if you won.
Good luck!
South Asians Over 40

Are you tired of bars, loud night clubs, internet dating, family introductions and blind dates
South Asians over 40 caters to individuals of South Asian (India, Pakistan, Bangladesh, Sri Lanka, Nepal, Afghanistan, Guyana, Trinidad and East Africa) descent who want to form new friendships.
Click HERE to join South Asians over 40 Meet Up group.
April 15 & 16 :: Live Indian Music :: Talk of the Town

Looking for a hot spot to hang out with friends and family on a weekday or weekend? Some place that has great food, live entertainment, good company in a casual setting? 'Talk of the Town' is the place to be!
Friday, April 15: Live Indian Music-Bibi
Saturday, April 16: Live Indian Music-Sumon

Music starts at 9:00 PM
Location: 429A Donlands Avenue, Toronto
For reservations call 416.429.8255
Click HERE for more information about this venue.
April 23: Movie Night with Naya Raasta South Asian Divorced or Separated Group

Formed in February of 2009, Naya Raasta :: The New Road is a group of individuals of South Asian (India, Pakistan, Bangladesh, Sri Lanka, Nepal, Afghanistan, Guyana, Trinidad and East Africa) background from the GTA area, that have come together to share the life altering experience of Divorce or separation. We learn from each other how to put the past behind us and move in a positive direction in life as individuals and as parents.
We encourage anyone who is either on the verge of divorce or separation, or even thinking about it, to please come and meet others who have faced the same tough decisions. New members welcomed.
Next Social Event: Saturday, April 23, Dinner/Movie? Movie/Drinks? @ 6:00 PM
Venue: Listed on website
Click HERE to read more about Naya Raasta :: New Road.
Falling In Love Works Better Than Prozac

Falling in Love Works Better Than Prozac is a book about choosing your attitude. We will all get bruised, we will all get broken, and then we are left with the most important decision of our life: to get bitter or get better.
Jessica R. Gera takes you on a journey through "bad luck," within a personal story of heartfelt truth peppered with astute humour, wit and reflection on being an East Indian twenty-something divorcee who meets with ovarian cancer. In the face of judgment and criticism, mounting personal doubt and swollen fear for the grueling possibilities that come with this disease, Jessica R. Gera realized that getting "broken," was the best way to becoming more whole that she ever thought possible.
Her advice to fall in love with something or someone, and to give back, explores the profound healing impact on our mind, body and soul. Her tale is both an inspiration and a red flag to other women who may be suffering with the "silent killer" of ovarian cancer or are simply looking for a way to put themselves back together again after being "broken."
Click HERE to read more.

TalentOyster is Canada's first all-inclusive online diversity job board for those who are exploring employment and career opportunities in Canada. Our website caters to the widest possible audience and speaks to its diverse population in 11 languages – and these languages represent over 80% of Canada's multicultural population.
Click HERE to browse the latest jobs.
Bring the British North America Act back to Canada for display


BringBackTheAct.ca
is national, grassroots movement launched by a group of Canadians from all walks of life. It is asking Canadians to support a petition to Her Majesty Queen Elizabeth II and the British government to return to Canada the British North America Act – Canada's *original* Constitution – in time for its 150th anniversary celebrations in Charlottetown 2014, and Canada's 150th birthday in 2017.
The campaign is the brainchild of Lori Abittan, President and CEO of Multimedia Nova Corporation. Her 52-week Canadian civic literacy/history series The Canadian Experience (http://www.cdnexperience.ca) now running in over 70 multicultural publications (including the Oye Times!), was the inspiration to launch BringBackTheAct.ca to invite all Canadians to help gain access to the basic documents which are the foundation of our nationhood. To enable such historical documents to be entrusted to the Canadian Government and displayed for all Canadians to see will represent the last step Canada takes to finally 'repatriate' our Constitution.
Peel Regional Police

Peel Regional Police is dedicated to providing the citizens of Peel Region with the best police service possible, utilizing the diverse skills, abilities, roles and views of our community.
Click HERE for more details about Peel Regional Police.