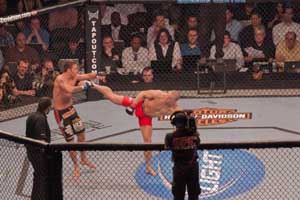 Welcome to another edition of Oye! Grapevine.
Oye! Sports: Oye! Times is the only South Asian media outlet to be accredited by the Toronto Maple Leafs, Toronto Blue Jays, Toronto Argonauts, Toronto FC, Toronto Raptors, Toronto Marlies and now Ultimate Fighting Championship.
Oye! Sports Podcast: This week Aman and Ben welcome special guest Neil Scott to the show. In the first ever three man podcast, we talk about the big event of the past week – UFC 129 that took place right here in Toronto. As well we review the month of April for the Blue Jays and Toronto FC's woeful season so far. In our around the world segment we touch on the NHL and NBA playoffs, UEFA Champions League and the NFL draft. And Ben shares declares his love for the Wichita Wings and shares a touching story of how he became a fan of the Denver Nuggets. Definitely not a episode you want to miss!
Featured Articles and Pictures:
UFC 129 in Toronto photos by JP Dhanoa.
UFC Training and Press Conference in Toronto photos by Annandi Merhai.
UFC 129 Bout by Bout Fight Notes & Fighter Quotes written by Aman Dhanoa.
Canadian Election 2011: More Musings from Stephen Harper written by Glen Asher.
After the Royal Wedding, royal married life. Where's the ketchup? written by William Belle.
Iran's top torturer aiding Syrian regime in clampdown written by Cyrus Green.
Canadian Election 2011: Time to rebuild Liberal party written by Steve Val.
Are women shallower than men? written by William Belle.
Oye! Contests:

Congratulations to John from Toronto for correctly answering last week's music question and winning a Cineplex movie pass
Here's another chance to WIN another ONE Free Cineplex movie pass.
Question: Name the female singing this song.
Some Upcoming Events:
Live Indian Music with Raziya and Saqib on Friday, May 6 at Santa Roza.
Monthly meeting of Naya Raasta South Asian Divorced or Separated Group on Saturday, May 14.
Neeraj Goel is a lawyer who specializes in family law. He will be present to answer any questions you may have.
Oye! Multimedia:

Oye! Videos offers a great selection of comedy and music videos. Have a look, enjoy some music and laughs.
Visit the Oye! Photo galleries to catch a glimpse of some pics taken by our members.
Oye! Times is proud to launch Oye! Radio in collaboration with Sareegamaa Radio. Now listen to your favourite Indian songs at work or home. 24 hrs a day. You can find a link to Oye! Radio on the right side of the website.
Advertising on Oye! Times is very economical and effective. Visit Oye! Media to promote your business or event on Oye! Times.
If you would like to contribute your writings to Oye! Times then please feel free to contact us.
We thank you for your past patronage, and look forward to your continued support.
Cheers!
Inder (Tel: 647 930 3791)
"Freedom's just another word for nothing left to lose"
UFC 129 in Toronto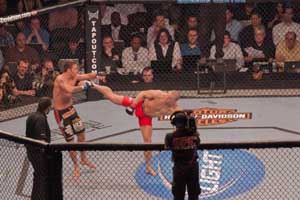 Over 55,000 Fans Fill Rogers Centre for UFC's First Stadium Event
What a night!
Those are the words probably echoed by many in attendance at UFC 129 on Saturday night – from the average fan to media to UFC President Dana White.
UFC's debut event in Toronto and first stadium spectacle was a smashing success. 55,724 fans filled Rogers Centre to witness over six hours of entertainment that featured great fights all evening including two title bouts. The gate for the event raked in $11.5 million Canadian.
The night was almost perfect. With the exception of the main event, Welterweight title fight between Montreal's Georges St-Pierre (GSP) and Jake Shields, every fight, including the undercards, was worthy of making highlight reels. Tallying up the undercard and main card, Canadian boxers finished the event with a record of 6-4..
Click HERE to read more.
Tiger Hills by Sarita Mandanna

The lustrous, epic debut novel about the undeniable pull of the heart's affections.

As the first girl born to the Nachimada family in over 60 years, the beautiful Devi is the object of adoration of her entire family. Strong-willed and confident, she befriends the shy Devanna, a young boy whose mother has died under tragic circumstances. The two quickly become inseparable, until Devi meets Machu the tiger killer, a hunter of great repute and a man of much honour and pride. It is this tangled relationship among the three that leads to a devastating tragedy—an event that forever changes their fates and has unforeseen and far-reaching consequences for generations to come.
"More than a love story, Tiger Hills explores the hazardous side of passion and the shackling grip of memory once love has been thwarted. It also vividly evokes Coorg itself—the coffee plantations, the European settlers, the age-old clans—offering an illuminating portrait of place through six decades of social change."—New York Times
Click HERE to read more and win 10 copies for your book club.
May 6 & 7:: Live Indian Music :: Talk of the Town

Looking for a hot spot to hang out with friends and family on a weekday or weekend? Some place that has great food, live entertainment, good company in a casual setting? 'Talk of the Town' is the place to be!
Friday, May 6: Live Indian Music-Karim Moloo
Saturday, May 7: Live Indian Music-Anjana

Music starts at 9:00 PM
Location: 429A Donlands Avenue, Toronto
For reservations call 416.429.8255
Click HERE for more information about this venue.
May 14: Naya Raasta South Asian Divorced or Separated Group Meeting

Formed in February of 2009, Naya Raasta :: The New Road is a group of individuals of South Asian (India, Pakistan, Bangladesh, Sri Lanka, Nepal, Afghanistan, Guyana, Trinidad and East Africa) background from the GTA area, that have come together to share the life altering experience of Divorce or separation. We learn from each other how to put the past behind us and move in a positive direction in life as individuals and as parents.
We encourage anyone who is either on the verge of divorce or separation, or even thinking about it, to please come and meet others who have faced the same tough decisions. New members welcomed.
Neeraj Goel is a lawyer who specializes in family law. He will be present to answer any questions you may have.
Next Meeting: May 14 @ Noon
Venue: Humber Summit Library, 2990 Islington Ave Toronto, ON
Next Social Event: May 21:: Shake Off Winter- From Water Falls to Kofta Balls
Venue: Will be listed on website

Click HERE to read more about Naya Raasta :: New Road.
Home refinancing as an option?

Are you feeling the burden of high interest with all your credit card debts or after obtaining a loan? Are you thinking of home improvements and renovations or simply looking for investment opportunities? Is your mortgage coming up for renewal? Then refinancing may be an option for you! With mortgage rates at an all time low, there are ways to reduce this burden. The number one reason most people want to refinance is to bundle up all the payments into one manageable payment by consolidating all outstanding debts. Whatever your reasons, refinancing offers a flexible solution to help you achieve what you want – Using your home equity can be a cost effective way to borrow the money compared to a traditional loan.
The information most lenders will consider for refinancing is the current property market value, the mortgage balance and the status of property taxes. Each lender has an application process to qualify borrowers and should include information on debts and assets, assessment of the property, verification of income, employment, and outstanding debts. Refinancing during a middle of a term almost always includes adding on additional funds and blends the rates. However, at renewal of your term is the best time to consider refinancing.
Click HERE to read more
Mix and Mingle with South Asians Over 40

Are you tired of bars, loud night clubs, internet dating, family introductions and blind dates
South Asians over 40 caters to individuals of South Asian (India, Pakistan, Bangladesh, Sri Lanka, Nepal, Afghanistan, Guyana, Trinidad and East Africa) descent who want to form new friendships.
Next Social Event: May 21:: Shake Off Winter- From Water Falls to Kofta Balls
Venue: Will be listed on website
Click HERE to join South Asians over 40 Meet Up group.
Marriage doesn't have to last forever to be good

Nothing lasts forever. The ephemeral nature of life. The transitory nature of our existence. All things must pass or more precisely in Matthew 24:6 (King James Version), all these things must come to pass. Our time on this planet is finite and I note that my vacations are very much finite as well as days off, weekends, and statutory holidays. If we look around, it is obvious that a great number of the things we take for granted do not go on forever, but do at some point come to an end one way or another. The question is just because something doesn't last forever does that mean it isn't good or is in some way less than good?
Click HERE to read more.

TalentOyster is Canada's first all-inclusive online diversity job board for those who are exploring employment and career opportunities in Canada. Our website caters to the widest possible audience and speaks to its diverse population in 11 languages – and these languages represent over 80% of Canada's multicultural population.
Click HERE to browse the latest jobs.
Bring the British North America Act back to Canada for display


BringBackTheAct.ca
is national, grassroots movement launched by a group of Canadians from all walks of life. It is asking Canadians to support a petition to Her Majesty Queen Elizabeth II and the British government to return to Canada the British North America Act – Canada's *original* Constitution – in time for its 150th anniversary celebrations in Charlottetown 2014, and Canada's 150th birthday in 2017.
The campaign is the brainchild of Lori Abittan, President and CEO of Multimedia Nova Corporation. Her 52-week Canadian civic literacy/history series The Canadian Experience (http://www.cdnexperience.ca) now running in over 70 multicultural publications (including the Oye Times!), was the inspiration to launch BringBackTheAct.ca to invite all Canadians to help gain access to the basic documents which are the foundation of our nationhood. To enable such historical documents to be entrusted to the Canadian Government and displayed for all Canadians to see will represent the last step Canada takes to finally 'repatriate' our Constitution.
Peel Regional Police

Peel Regional Police is dedicated to providing the citizens of Peel Region with the best police service possible, utilizing the diverse skills, abilities, roles and views of our community.
Click HERE for more details about Peel Regional Police.