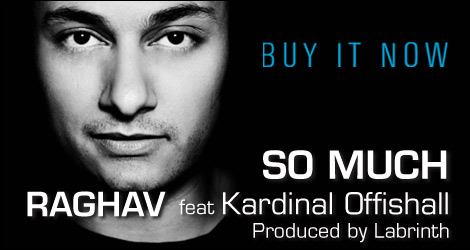 Raghav's Hit Single :: So Much


Canada – You remember Raghav from "Angel Eyes" – but he's back now with "So Much" featuring hometown hero Kardinal Offishall. Raghav signed to mainstream label Cordova Bay Records out in Vancouver and they signed him partly based on the belief that his core South Asian fanbase will step up to plate and support him with iTunes sales and
YouTube views
.
If we can create a story as a community – the mainstream music industry will realize and respect the power of the neoDesi generation. With your help – not only can we get Raghav on the charts to #1 – but we'll also open the doors even wider for future neoDesi artists. Lets go Canada! Do your part to support the movement.
Lets break the top 100 this week on iTunes!
Click HERE to view the Youtube video.
Exodus in 1947 and now Gaza Flotilla

I hadn't planned to comment on last week's Israeli attack on the FreeGaza aid convoy that was attacked in international water but a friend sent me a link on a story that I had recalled reading about many years ago. While I'm not saying that the two stories are completely linked, there are some parallels that are quite stunning.
After the Second World War, the British struggled with the Jewish question, in particular because Palestine was under their mandate. The Jews had suffered greatly during the war and in 1946, the Jewish paramilitary organization Haganah (the precurser to the Israeli Defence Forces that was regarded by the British as a terrorist organization responsible for acts of sabotage), as part of their anti-British operations, purchased a ship from the United States War Shipping Administration.
Click HERE to read the complete article.
June 11 & 12 :: Live Indian Music :: Talk of the Town

Looking for a hot spot to hang out with friends and family on a weekday or weekend? Some place that has great food, live entertainment, good company in a casual setting? 'Talk of the Town' is the place to be!
Friday, June 11: Indian Music :: Sumon
Saturday, June 12: Live Indian Music :: Karim
Music starts at 9:00 PM
Location: 429A Donlands Avenue, Toronto
For reservations call 416.429.8255
Click HERE for more information about this venue.
June 14 :: Bollywood Divas (Song and Dance Extravaganza)

On June 14, from 7- 10 pm, at the splendid venue of Yonge/Dundas Square, Masala! Mehndi! Masti! (Spice!Henna!Fun!) will team up with Luminato, Toronto's premier arts and creativity festival, to dazzle the core of downtown Toronto with a Bollywood song and dance extravaganza!
This will be the third tremendous year M!M!M! will present 'Light On Your Feet' in concert with Luminato and they have an electrifying treat in store for the mighty Toronto. For starters, Suzanne D'Mello, Bollywood playback Diva, well known for having sung AR Rahman's compositions in 'Slumdog Millionaire' and for several sizzling hit songs from 'Dhoom 2', 'Singh is King', 'Ghajini', 'Partner' and most recently in 'Kites', is set to wow the crowd with her awesome voice.
Date: June 14, 2010 @ 7:00 PM
Venue: Yonge/Dundas Square, Toronto, Ontario
Click HERE for more details.
Canadian Solar Inc :: Rahim Jaffer and Patrick Glemaudune connection

This post is going to begin with a bit of a rant. After a flurry of splashy headlines in the spring, the mainstream media now only occasionally dabbles into the Rahim Jaffer-Patrick Glemaud-Helena Guergis affair. The big news this week was the Government Operations committee meeting that collapsed into anarchy. Bouncing off that story, the MSM now seems focused on Christian Paradis' dealings with Mr. Jaffer.
If only the mainstream media would dig a little deeper, they would find much more interesting narratives to latch onto. For example, there's Mr. Jaffer and Mr. Glemaud's dealings with Rick MacPherson, who was president of a defunct shell company named RLP Energy Inc. There's the possible connections between Nazim Gilani and Glenn Collick. There are the links between Mr. MacPherson and the EERC, and the links between the EERC and the Aboriginal Cogeneration Corporation that was causing such a stir in Kamloops last year.
Click HERE to read the complete article.
Till Nov 28 :: Ragamala: Garland of Melodies

Opening during South Asian Heritage Month in Ontario, the ROM's newest exhibit exploring art from India features new acquisitions as well as artifacts from the vaults. This exhibit of 30 objects in a 400 square foot case explores themes associated with Ragamala painting, a genre of South Asian miniature painting that flourished during the 16th -19th centuries. Originating in western India, Ragamala painting came out of artistic workshops of the Rajasthani kingdoms from where they spread southward to the Deccan and later northward to the Pahari region (now in the state of Punjab).
Date: Till November 28, 2010 @ 10:00 AM
Venue: Royal Ontario Museum, 100 Queen's Park, Toronto, Ont
Click HERE to read more.
For Sale :: Talk of The Town Restaurant & Bar

Talk of The Town Restaurant & Bar
Fantastic Opportunity For Owner/Operator To Run This Newly Renovated Restaurant Or Other Retail Use,Includes All Chattels For Licensed Bar/ Restaurant For 45 Seats. Good Busy Location . . Sale Of Business Only.
Excellent lease and currently has live Indian music on Friday's and Saturday's.
Contact Darshan Singh Sahota at Tel: 416-742-8000
Click HERE for more details.

Peel Regional Police

Peel Regional Police is dedicated to providing the citizens of Peel Region with the best police service possible, utilizing the diverse skills, abilities, roles and views of our community.
Click HERE to apply for constable or cadet with Peel Regional Police.