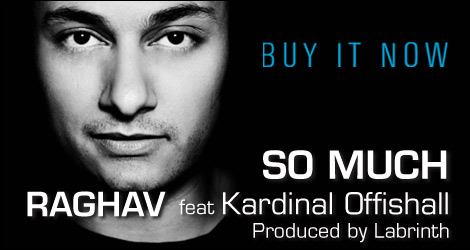 Raghav's Hit Single :: So Much


Canada – You remember Raghav from "Angel Eyes" – but he's back now with "So Much" featuring hometown hero Kardinal Offishall. Raghav signed to mainstream label Cordova Bay Records out in Vancouver and they signed him partly based on the belief that his core South Asian fanbase will step up to plate and support him with iTunes sales and
YouTube views
.
If we can create a story as a community – the mainstream music industry will realize and respect the power of the neoDesi generation. With your help – not only can we get Raghav on the charts to #1 – but we'll also open the doors even wider for future neoDesi artists. Lets go Canada! Do your part to support the movement.
Lets break the top 100 this week on iTunes!
Raghav has been added to radio stations across Canada – now we need your support to drive him up the charts. Email, text, tweet and call in your request for Raghav "So Much" featuring Kardinal Offishall! Check him out at the following radio stations – more coming soon:
Kiss 92.5 Toronto http://www.KiSS925.com
Virgin 99.9 Toronto http://toronto.virginradio.ca
Z103.5 Toronto http://www.z1035.com
Hot 89.9 Ottowa http://www.hot899.com
Vibe 98.5 Calgary http://www.vibe985.com
Click HERE to view the Youtube video.
June 18 & 19 :: Live Indian Music :: Talk of the Town

Looking for a hot spot to hang out with friends and family on a weekday or weekend? Some place that has great food, live entertainment, good company in a casual setting? 'Talk of the Town' is the place to be!
Friday, June 18: Indian Music :: Bibi
Saturday, June 19: Live Indian Music :: Anil
Music starts at 9:00 PM
Location: 429A Donlands Avenue, Toronto
For reservations call 416.429.8255
Click HERE for more information about this venue.
June 19 & 20 :: Sears Markham Outlet Charity Barbeque!

Sears Children's Cancer Charities
Sears Cancer Wish initiatives are committed to helping children with cancer and their families across Canada. Sears is working with children's oncology centres and organizations such as The Hospital for Sick Children, Operation Enfant Soleil, BC Children's Hospital, IWK Health Centre and Stollery Children's Hospital to raise funds and awareness for research and treatment initiatives. This will fund programs that improve the lives of children living with cancer, as well as those recovering from the physical and emotional scars that can be part of survivorship.
Date: Saturday June 19th and Sunday June 20th, 11am-3pm.
Venue: Sears Markham, 2900 Steeles Avenue East. Thornhill
Tel: (905) 881-6600

Win a Coleman – 50 QT Wheeled Party Stacker Cooler


Lucky Draw! Win a Coleman – 50 QT Wheeled Party Stacker Cooler
To enter send your full name and email address to inder@oyetimes.com
Easy as that!
Lucky Draw deadline July 15, 2010

June 20 :: Umeedan Di Shaam (Virginia)

The Sikh Human Development Foundation (SHDF) is a non-profit, non-political organization
Date: June 20, 2010 @ 6:00 PM
Venue: Sheraton Hotel, 8661 Leesburg Pike, Vienna, VA
Click HERE for more details.
July 3 :: Naya Raasta :: South Asian Divorced or Separated Support Group

Naya Raasta :: New Road We offer help to men and women going through divorce/separation, by inviting them to attend an open discussion forum. This forum is primarily to share your experiences and converse with others in similar situations, or simply to listen. The environment is completely supportive of everyone's individual needs and emotions. Please be aware that this is a support group and not a dating club for divorced/separated individuals.
We encourage anyone who is either on the verge of divorce or separation, or even thinking about it, to please come and meet others who have faced the same tough decisions. New members welcomed.
Next Meeting: Saturday, July 3, 2010 @ NOON
Venue: Richview Public Library, 1806 Islington Avenue , Toronto, Ont
Email nayaraasta@oyetimes.com if you would like to attend the next meeting.
Click HERE to read more about Naya Raasta :: New Road.
Till Nov 28 :: Ragamala: Garland of Melodies

Opening during South Asian Heritage Month in Ontario, the ROM's newest exhibit exploring art from India features new acquisitions as well as artifacts from the vaults. This exhibit of 30 objects in a 400 square foot case explores themes associated with Ragamala painting, a genre of South Asian miniature painting that flourished during the 16th -19th centuries. Originating in western India, Ragamala painting came out of artistic workshops of the Rajasthani kingdoms from where they spread southward to the Deccan and later northward to the Pahari region (now in the state of Punjab).
Date: Till November 28, 2010 @ 10:00 AM
Venue: Royal Ontario Museum, 100 Queen's Park, Toronto, Ont
Click HERE to read more.
For Sale :: Talk of The Town Restaurant & Bar

Talk of The Town Restaurant & Bar
Fantastic Opportunity For Owner/Operator To Run This Newly Renovated Restaurant Or Other Retail Use,Includes All Chattels For Licensed Bar/ Restaurant For 45 Seats. Good Busy Location . . Sale Of Business Only.
Excellent lease and currently has live Indian music on Friday's and Saturday's.
Contact Darshan Singh Sahota at Tel: 416-742-8000
Click HERE for more details.

Peel Regional Police

Peel Regional Police is dedicated to providing the citizens of Peel Region with the best police service possible, utilizing the diverse skills, abilities, roles and views of our community.
Click HERE to apply for constable or cadet with Peel Regional Police.