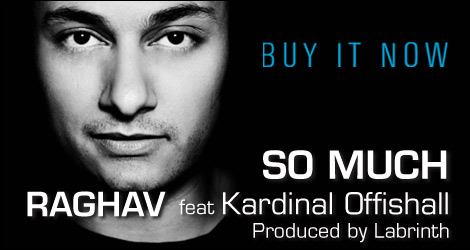 Welcome to another edition of Oye! Grapevine.
I hope everyone had a great Canada Day long weekend.
Have you ever saved someone's life? Not many of us have. On July 25th, there is a Bone Marrow match drive for Sarla Davda. I don't know Sarla Davda personally but I along with my children will be doing our small part. I am asking all Oye! readers to take some time out of their busy schedule and attend this worthwhile cause.
Ever wanted to visit India. Jaipur is the sixth entry in series of travel blogs by Simon Reid.
Congratulations to Farah from Toronto for correctly answering last week's question and winning a Cineplex movie pass
Here's another chance to WIN another ONE Free Cineplex movie pass. Maybe I am just getting old but the new music kids listen to these days just sounds like noise to me. Here is a song when music touched the soul. Question: Name the artist singing this song.
Email your answer to inder@oyetimes.com
Some Upcoming Events:
Bollywood Beat 2010 is being held on July 9. Great annual family event highlighting the diverse talent in South Asian culture.
TELUS Mosaic 2010 is back at Living Arts Centre in Mississauga starting on July 9 till July 11.
Masala! Mehndi! Masti! North America's largest free South Asian festival, fires up Toronto's Exhibition Place from July 23-25. Fun for the whole family.

Ragamala: Garland of Melodies is ROM's newest exhibit exploring art from India featuring new acquisitions as well as artifacts from the vaults.
Thinking of getting married. Shaadi.com is the worlds leading South Asian matrimonial website. Join today.
Register on Oye! Times and share your videos and photos with the Oye! audience. We regularly feature videos and photos from our members in our newsletters. The more you upload, the more points you earn. Redeem your points for great rewards.
Oye! Videos offers a great selection of comedy and music videos. Have a look, enjoy some music and laughs.
Visit the Oye! Photo galleries to catch a glimpse of some pics taken by our members.
Oye! Times is proud to launch Oye! Radio in collaboration with Sareegamaa Radio. Now listen to your favourite Indian songs at work or home. 24 hrs a day. You can find a link to Oye! Radio on the right side of the website.
If you would like to contribute your writings to Oye! Times then please feel free to contact us.
We thank you for your past patronage, and look forward to your continued support.
Cheers!
Inder (Tel: 416 875 2434)
"Freedom's just another word for nothing left to lose"
Raghav's Hit Single :: So Much


Canada – You remember Raghav from "Angel Eyes" – but he's back now with "So Much" featuring hometown hero Kardinal Offishall. Raghav signed to mainstream label Cordova Bay Records out in Vancouver and they signed him partly based on the belief that his core South Asian fanbase will step up to plate and support him with iTunes sales and
YouTube views
.
If we can create a story as a community – the mainstream music industry will realize and respect the power of the neoDesi generation. With your help – not only can we get Raghav on the charts to #1 – but we'll also open the doors even wider for future neoDesi artists. Lets go Canada! Do your part to support the movement.
Lets break the top 100 this week on iTunes!
Raghav has been added to radio stations across Canada – now we need your support to drive him up the charts. Email, text, tweet and call in your request for Raghav "So Much" featuring Kardinal Offishall! Check him out at the following radio stations – more coming soon:
Kiss 92.5 Toronto http://www.KiSS925.com
Virgin 99.9 Toronto http://toronto.virginradio.ca
Z103.5 Toronto http://www.z1035.com
Hot 89.9 Ottowa http://www.hot899.com
Vibe 98.5 Calgary http://www.vibe985.com
Click HERE to view the Youtube video.
I'm lucky to be Canadian

Thursday, July 1, 2010: Canada Day; our national celebration of the birth of this country, now 143 years old. In the past week, I see our population has now crossed the 34 million mark which would rank Canada around 36th in the world by population, 0.5% of the world's total on a land mass which is second only to Russia in territorial size.
Last year, my wife and I were having lunch with another couple, some good friends. The gentleman in question made an interesting comment by saying that we were all lucky simply because we were all born in Canada. He was stating that for no other reason, simply being born in this country represented a stroke of good fortune. Canada as opposed to many other countries in the world gave all of us an upper hand by statistically giving us more choices and better chances than elsewhere. This is certainly not something I normally think about; after all, like everyone else I am very much caught up in living my life and I do not always turn my attention to such ideas. Nevertheless, I must admit that my friend was right and I suppose I do not always fully appreciate that fact.
Click HERE to read more.
July 9 :: Bollywood Beat 2010

Bollywood Beat is a non commercial annual family event highlighting the diverse talent in South Asian culture.
During Bollywood Beat 2010 donations will be made to Knights Table; an organization working to alleviate hunger in the Region of Peel by providing meals and foodservices to the needy and those affected by hunger, poverty and homelessness.
Date: Friday July 9, 7:30 pm.
Venue: Payal Banquet Hall, 3410 Semenyk Court , Mississauga, Ont
Click HERE for more details.
July 9 & 10 :: Live Indian Music :: Talk of the Town

Looking for a hot spot to hang out with friends and family on a weekday or weekend? Some place that has great food, live entertainment, good company in a casual setting? 'Talk of the Town' is the place to be!
Friday, July 9: Live Indian Music-Bibi
Saturday, July 10: Live Indian Music-Anil
Music starts at 9:00 PM
Location: 429A Donlands Avenue, Toronto
For reservations call 416.429.8255
Click HERE for more information about this venue.
Win a Coleman – 50 QT Wheeled Party Stacker Cooler


Lucky Draw! Win a Coleman – 50 QT Wheeled Party Stacker Cooler
To enter send your full name and email address to inder@oyetimes.com
Easy as that!
Lucky Draw deadline July 15, 2010

Ontario Child Benefit

The Ontario Child Benefit is financial support for low-income families to help provide for their children. In July 2009, eligible families saw an increase in their monthly payments.
Click HERE to read more.
Navin Kundra lives it up – "Jee Le"

Navin Kundra is back with a chart busting record that is going to inject clubs with an energy that has never been felt before! 'Jee Le' is an electro-pop dance track that invites listeners to live life to the fullest.
Navin says, "The message of this song is to live it up and live for today because we only have one shot at life so make it count! I've been fortunate enough to meet people from so many different walks of life across the world and I've realized that they have so many things that they want to do but for one reason or another never do them, or put them off till another time."
Click HERE to read more.
July 25 :: Bone Marrow match for Sarla Davda

This is an urgent request for a Bone Marrow match for Sarla Davda who lives in Pittsburgh, USA.
Sarla was recently diagnosed with Acute Lymphoblastic Leukemia (ALL), which is a rare and life-threatening form of leukemia.
Sarla has been in the hospital and has undergone many different treatments, including transfusions, platelets, and plasma. In addition Sarla began Chemotherapy, which will keep her in the hospital for the better part of the next few months. As treatment and testing progressed, her doctors have informed the family that her form of ALL is one in which it is critical that she receive a Bone-Marrow transplant. The timeline for this procedure is within the next 3 months, as long as a suitable (matched) donor is found. The longer she goes without a match being found, the lower her chances of long-term survival.
We are conducting an on-site bone marrow drive on July 25th from 2:30-7:30pm at the Swaminarayan Temple, details are provided in the poster.
Click HERE for venue location.
Till Nov 28 :: Ragamala: Garland of Melodies

Opening during South Asian Heritage Month in Ontario, the ROM's newest exhibit exploring art from India features new acquisitions as well as artifacts from the vaults. This exhibit of 30 objects in a 400 square foot case explores themes associated with Ragamala painting, a genre of South Asian miniature painting that flourished during the 16th -19th centuries. Originating in western India, Ragamala painting came out of artistic workshops of the Rajasthani kingdoms from where they spread southward to the Deccan and later northward to the Pahari region (now in the state of Punjab).
Date: Till November 28, 2010 @ 10:00 AM
Venue: Royal Ontario Museum, 100 Queen's Park, Toronto, Ont
Click HERE to read more.
For Sale :: Talk of The Town Restaurant & Bar

Talk of The Town Restaurant & Bar
Fantastic Opportunity For Owner/Operator To Run This Newly Renovated Restaurant Or Other Retail Use,Includes All Chattels For Licensed Bar/ Restaurant For 45 Seats. Good Busy Location . . Sale Of Business Only.
Excellent lease and currently has live Indian music on Friday's and Saturday's.
Contact Darshan Singh Sahota at Tel: 416-742-8000
Click HERE for more details.

Peel Regional Police

Peel Regional Police is dedicated to providing the citizens of Peel Region with the best police service possible, utilizing the diverse skills, abilities, roles and views of our community.
Click HERE for more details about Peel Regional Police.