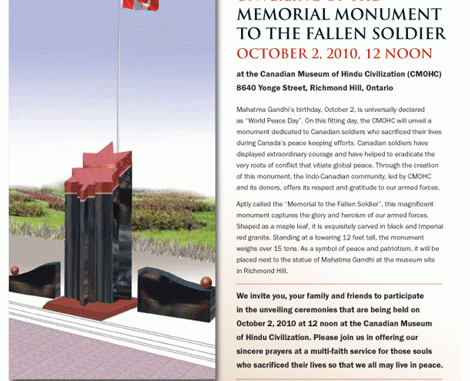 October 2:: South Asian community honours fallen Canadian Soldiers

A Maple-Leaf Shaped Monument to be Unveiled in Richmond Hill, Ontario
"The Memorial is built by the Indo-Canadian Community to honour fallen Canadian soldiers"
A grand Memorial to our Fallen Soldiers will be ceremoniously unveiled at the premises.

Dates: Saturday, October 2 @ NOON
Venue: Canadian Museum of Hindu Civilization at 8640 Yonge Street, Richmond Hill, Ontario

Click HERE to read more.
October 1 & 2 :: Live Indian Music :: Talk of the Town

Looking for a hot spot to hang out with friends and family on a weekday or weekend? Some place that has great food, live entertainment, good company in a casual setting? 'Talk of the Town' is the place to be!
Friday, October 1: Live Indian Music-Ranjeet
Saturday, October 2: Live Indian Music-Bibi

Music starts at 9:00 PM
Location: 429A Donlands Avenue, Toronto
For reservations call 416.429.8255
Click HERE for more information about this venue.
Thinking of changing your job!

TalentOyster is Canada's first all-inclusive online diversity job board for those who are exploring employment and career opportunities in Canada. Our website caters to the widest possible audience and speaks to its diverse population in 11 languages – and these languages represent over 80% of Canada's multicultural population.
Click HERE to browse the latest jobs.
Brandmasters

You want to build a memorable brand and we want to be the company that gets you there
.
From corporate branding, marketing materials and website design to store signage and promotional products; Brandmasters has the experience to ensure success in everything we do.
With any number of marketing and printing companies all vying for your hard earned dollar… why choose Brandmasters? Perhaps the simplest answer is, the knowledge that all of your branding materials are always in the same capable hands, from start to completion. You simply cannot afford to spend your time organizing and following up with multiple printers, sign manufacturers and promotional companies. We at Brandmasters understand this fact. In response, we have assembled a highly skilled team with a passion for developing and implementing solutions to complex marketing problems.
Special Offer:
Get a stunning 5 page website for only $995.00 with an incredible 5 day turn around.
Visit: www.brandmasters.ca
October 15 :: Delhi Devils Indian Dance Night!

Come and join the huge, fabulous night of Indian music, presented by Delhi Devils!!! Bhangara, Hindi and fusion music for you to dance the night away.
Dates: Friday, October 15 @ 9:00 PM
Venue: Home Night Club, 117 Peter St , Toronto, Ontario
Click HERE for more information.
October 16 :: Mohsen Namjoo in Concert

A cultural phenomenon and one of Iran's most controversial and influential musicians today, Mohsen Namjoo gains worldwide appeal with his visionary take on traditional Persian music fused with western blues and rock. With his band and full live orchestra, Namjoo takes the stage at Toronto's prestigious and newly renovated state-of-the-art facility at the Sony Centre for the Performing Arts.
Dates: Saturday, October 16th, 2010 at 7.30pm
Venue: Sony Centre for the Performing Arts, 1 Front Street East , Toronto Ontario

Click HERE for more details.

October 22 :: Trillium Diwali Fundraiser

Fine Indian cuisine, dazzling décor and breathtaking entertainment makes this a universally appealing event marking 'Diwali', the South Asian 'Festival of Lights'.

Date: Friday, October 22 at 6:30 PM
Venue: Pearson Convention Center, 2638 Steeles Ave. E , Brampton, Ontario

Click
HERE
for more details.
October 31 :: AWIC Crown Jewel Ball

Come and join us for the AWIC 's prestigious Diwali Fundraiser Crown Jewel Ball.
Enjoy live entertainment, an exciting fashion show, and the chance to participate in a silent auction!!!
Cocktail reception in Grand Victorian Ballroom Lobby.
Buffet dinner will be served, and there will be sit down dessert, followed with DJ and open dance floor!!!

Date: Sunday, October 31, 2010 @ 5:30 PM
Venue: Radisson Plaza Mississauga, 175 Derry Road East , Mississauga, Ontario
Click HERE to read more.
Bring the British North America Act back to Canada for display


BringBackTheAct.ca
is national, grassroots movement launched by a group of Canadians from all walks of life. It is asking Canadians to support a petition to Her Majesty Queen Elizabeth II and the British government to return to Canada the British North America Act – Canada's *original* Constitution – in time for its 150th anniversary celebrations in Charlottetown 2014, and Canada's 150th birthday in 2017.
The campaign is the brainchild of Lori Abittan, President and CEO of Multimedia Nova Corporation. Her 52-week Canadian civic literacy/history series The Canadian Experience (http://www.cdnexperience.ca) now running in over 70 multicultural publications (including the Oye Times!), was the inspiration to launch BringBackTheAct.ca to invite all Canadians to help gain access to the basic documents which are the foundation of our nationhood. To enable such historical documents to be entrusted to the Canadian Government and displayed for all Canadians to see will represent the last step Canada takes to finally 'repatriate' our Constitution.
Till Nov 28 :: Ragamala: Garland of Melodies

Opening during South Asian Heritage Month in Ontario, the ROM's newest exhibit exploring art from India features new acquisitions as well as artifacts from the vaults. This exhibit of 30 objects in a 400 square foot case explores themes associated with Ragamala painting, a genre of South Asian miniature painting that flourished during the 16th -19th centuries. Originating in western India, Ragamala painting came out of artistic workshops of the Rajasthani kingdoms from where they spread southward to the Deccan and later northward to the Pahari region (now in the state of Punjab).
Date: Till November 28, 2010 @ 10:00 AM
Venue: Royal Ontario Museum, 100 Queen's Park, Toronto, Ont
Click HERE to read more.
For Sale :: Talk of The Town Restaurant & Bar

Talk of The Town Restaurant, Bar and Apartment
Lifetime Moment To Own A Property With Running Food Business Serving East Indian And African Cuisine With Live Music On Weekends.Busy Till 2Am.Has Newly Renovated 1 Bdrm Appt With Sep Entrance.Good For Renting For Residential/Office Use.Restaurant Has 45 Seating Space With LLBO. Kitchen Fully Equipped & Storage Available.Don't Miss The Golden Opportunity.A/C Gas Grill,All Cutlery,Fixtures And Chattles.Rooftop Sign Board Pays Off The Property Tax.
Upstair Apartment Could Fetch Upto $1,100/M, Rental Income From Restaurant $2,000/M.Also Parking Spaces Is Two, Chattels Is Yes, Hours Open 6Pm-10 Sun-Thurs And 6Pm -2Am Fri-Sat, Days Open Is 6 (Mondays Closed).
Contact Rajeev Kumar at Tel: 905-565-9565
Click HERE for more details.

Peel Regional Police

Peel Regional Police is dedicated to providing the citizens of Peel Region with the best police service possible, utilizing the diverse skills, abilities, roles and views of our community.
Click HERE for more details about Peel Regional Police.