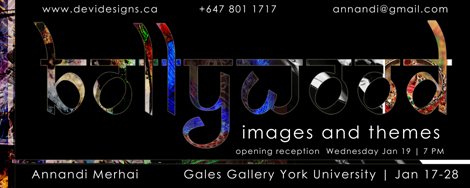 January 17-28 :: Annandi Merhai's Bollywood – Images and Themes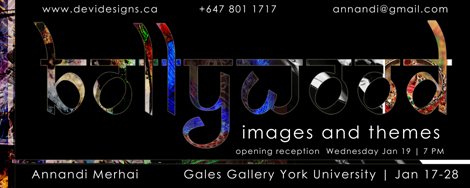 The artist's subjects and inspiration are drawn directly from the Bollywood films she loves. From portraits of film stars like Sushmita Sen and Arjun Rampal, to exploring the love stories, mother figures, gems and colourful bazaars that appear in many Bollywood films, Merhai presents a diverse cultural exploration through the lens of her artistic practice.
Merhai's passion for art and fascination with anthropology and the Indian diaspora are combined in a substantial thematic body of work. Her work has been exhibited at Toronto's Harbourfront Centre, Canadian National Exhibition (as part of Masala Mehendi Masti) and the Art Gallery of Mississauga, and on campus in the Gales Gallery and the Eleanor Winters Gallery.
Dates: January 17-28 @ 10 am till 4:30 pm
Venue: Gales Gallery, 105 Accolade West Building, York University, Keele Campus, Toronto
Click HERE for more details.
January 28 & 29 :: Live Indian Music :: Talk of the Town

Looking for a hot spot to hang out with friends and family on a weekday or weekend? Some place that has great food, live entertainment, good company in a casual setting? 'Talk of the Town' is the place to be!
Friday, January 28: Live Indian Music-Sumon
Saturday, January 29: Live Indian Music-Azeem

Music starts at 9:00 PM
Location: 429A Donlands Avenue, Toronto
For reservations call 416.429.8255
Click HERE for more information about this venue.
Nestle Offer to Oye Readers: Get Free Nestle Baby Backpack

Great offer for Oye Readers
Join today and get a FREE Nestle Baby Backpack.
Click HERE for more details.
The Sikh Kirpan: No Religious freedom for Sikhs in Quebec

This past Tuesday, representatives of the World Sikh Organization were invited to address a legislative committee at Quebec's national assembly about Bill 94, the proposed law on the reasonable accommodation of the religious and cultural practices of minorities in the Quebec civil service and society in general. In what anybody could only consider as ironic, the group arrived at the legislature only to be denied entry. Obviously the reasonable accommodation of the religious and cultural practices of minorities still needs some work.
As the story goes, the four men from Toronto, Ottawa and Montreal did contact the National Assembly security to inquire if their religious ceremonial daggers would present a problem but received conflicting responses. They decided to come anyway.
Click HERE to read more.
Feb 4 :: Besharam Night with South Asians Over 40

Are you tired of bars, loud night clubs, internet dating, family introductions and blind dates
South Asians over 40 caters to individuals of South Asian (India, Pakistan, Bangladesh, Sri Lanka, Nepal, Afghanistan, Guyana, Trinidad and East Africa) descent who want to form new friendships.
Upcoming Events:
Feb 4 :: Besharam Night

Click HERE to join South Asians over 40 Meet Up group.
Feb 13 :: Kismet Wedding Show & Magazine

Kismet Wedding Show & Magazine in Association with Johnnie Walker and Mobilicity
* Fashion shows featuring 10 of the top fashion houses in the GTA at 1:30pm and 4:30pm hosted by Flow 93.5's Devo Brown!
* Over 150 of the top wedding vendors
* The Kismet Beauty Zone, featuring top beauty consultants from across the city.
Tons of free giveaways by:
* Johnnie Walker
* Mobilicity
* Grand Empire Banquet & Convention Centre
* Kumar Diamonds Inc.
When: Sunday, February 13th, 2011 @ 11:00am to 7:00pm
Where: International Centre – Hall 1, 6900 Airport Road, Toronto
Tickets: For complimentary tickets email us at tickets@kismetweddingshow.com
Click HERE to read more about Kismet Wedding Show.
Thinking of changing your job!

TalentOyster is Canada's first all-inclusive online diversity job board for those who are exploring employment and career opportunities in Canada. Our website caters to the widest possible audience and speaks to its diverse population in 11 languages – and these languages represent over 80% of Canada's multicultural population.
Click HERE to browse the latest jobs.
Bring the British North America Act back to Canada for display


BringBackTheAct.ca
is national, grassroots movement launched by a group of Canadians from all walks of life. It is asking Canadians to support a petition to Her Majesty Queen Elizabeth II and the British government to return to Canada the British North America Act – Canada's *original* Constitution – in time for its 150th anniversary celebrations in Charlottetown 2014, and Canada's 150th birthday in 2017.
The campaign is the brainchild of Lori Abittan, President and CEO of Multimedia Nova Corporation. Her 52-week Canadian civic literacy/history series The Canadian Experience (http://www.cdnexperience.ca) now running in over 70 multicultural publications (including the Oye Times!), was the inspiration to launch BringBackTheAct.ca to invite all Canadians to help gain access to the basic documents which are the foundation of our nationhood. To enable such historical documents to be entrusted to the Canadian Government and displayed for all Canadians to see will represent the last step Canada takes to finally 'repatriate' our Constitution.
Peel Regional Police

Peel Regional Police is dedicated to providing the citizens of Peel Region with the best police service possible, utilizing the diverse skills, abilities, roles and views of our community.
Click HERE for more details about Peel Regional Police.