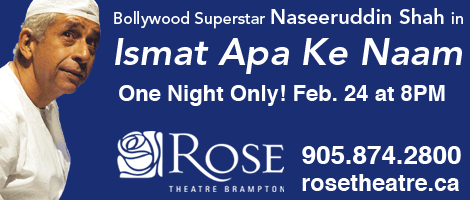 Feb 24 :: Naseeruddin Shah in Ismat Apa Ke Naam

In his first ever performance in Canada, Bollywood Superstar Naseerudin Shah and his Motley Theatre group from Mumbai stage a collection of three works by short-story writer Ismat Khanum Chughtai. In addition to producing and directing, Naseeruddin Shah will be performing along with Bollywood actresses Ratna Pathak and Heeba Shah.
Together the works celebrate Chugtai as one of India's best-loved writers. "Gharwali," Mughal Bachcha," and "Chhui Muee" are stories that challenge India's gender biases, caste system, and notions on the worth of rural women. Performed in Hindi/Urdu with English surtitles.
A Level: $50
B Level: $35
When: Thursday, February 24th, 2011 @ 8:00pm
Where: Rose Theatre, 1 Theatre Lane, Brampton, Ont
To order call 905-874-2800 or buy online at www.rosetheatre.ca
Click HERE to read more about the play.
South Asians Over 40

Are you tired of bars, loud night clubs, internet dating, family introductions and blind dates
South Asians over 40 caters to individuals of South Asian (India, Pakistan, Bangladesh, Sri Lanka, Nepal, Afghanistan, Guyana, Trinidad and East Africa) descent who want to form new friendships.
Click HERE to join South Asians over 40 Meet Up group.
February 18 & 19 :: Live Indian Music :: Talk of the Town

Looking for a hot spot to hang out with friends and family on a weekday or weekend? Some place that has great food, live entertainment, good company in a casual setting? 'Talk of the Town' is the place to be!
Friday, February 18: Live Indian Music-Sumon
Saturday, February 19: Live Indian Music-Anjana

Music starts at 9:00 PM
Location: 429A Donlands Avenue, Toronto
For reservations call 416.429.8255
Click HERE for more information about this venue.
Rahat Fateh Ali Khan held in India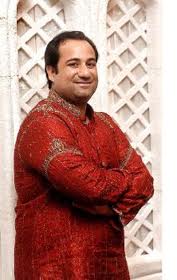 Pakistan has started making hectic efforts to secure the release of famous singer Rahat Fateh Ali Khan who was detained at New Delhi's Indira Gandhi International Airport on charges of carrying undisclosed foreign currency.
Foreign Secretary Salman Bashir called Indian High Commissioner in Islamabad Sharat Sabarwal and discussed the matter around midnight Sunday. He requested the Indian envoy to ensure that "no official should misbehave with Rahat during interrogation".
Rahat was detained at the Delhi airport on Sunday on his way back to Pakistan after attending concerts and award functions in India. More than $100,000 was recovered from the 15-member troupe.
Click HERE to read more.
Jason Kenney wants to reduce visas for parents

Today Liberal Member of Parliament Navdeep Bains reacted to Conservative Immigration Minister Jason Kenney's decision to cut family reunification visas by over 30%.
"This decision means keeping families apart for up to 13 years," said Mr. Bains. "We should be looking at ways to bring families together the Conservatives are out of touch with what New Canadian families need".
Mr. Kenney's announcement comes as the Harper Government looks to cut immigration by 5% overall. To meet this target the Harper Government has decided to cut family reunification visas by 5,000, from 16,000 a year to 11,000. This 30% reduction will compound existing wait times.
Click HERE to read more.
Feb 26 :: Naya Raasta South Asian Divorced or Separated Group

Formed in February of 2009, Naya Raasta :: The New Road is a group of individuals of South Asian (India, Pakistan, Bangladesh, Sri Lanka, Nepal, Afghanistan, Guyana, Trinidad and East Africa) background from the GTA area, that have come together to share the life altering experience of Divorce or separation. We learn from each other how to put the past behind us and move in a positive direction in life as individuals and as parents.
We encourage anyone who is either on the verge of divorce or separation, or even thinking about it, to please come and meet others who have faced the same tough decisions. New members welcomed.
Next Meeting: Saturday, Feb 26, 2010 @ 3 pm till 4:45 pm
Venue: Humber Summit Library, 2990 Islington Ave, Toronto, Ont
Click HERE to read more about Naya Raasta :: New Road.
Thinking of changing your job!

TalentOyster is Canada's first all-inclusive online diversity job board for those who are exploring employment and career opportunities in Canada. Our website caters to the widest possible audience and speaks to its diverse population in 11 languages – and these languages represent over 80% of Canada's multicultural population.
Click HERE to browse the latest jobs.
Bring the British North America Act back to Canada for display


BringBackTheAct.ca
is national, grassroots movement launched by a group of Canadians from all walks of life. It is asking Canadians to support a petition to Her Majesty Queen Elizabeth II and the British government to return to Canada the British North America Act – Canada's *original* Constitution – in time for its 150th anniversary celebrations in Charlottetown 2014, and Canada's 150th birthday in 2017.
The campaign is the brainchild of Lori Abittan, President and CEO of Multimedia Nova Corporation. Her 52-week Canadian civic literacy/history series The Canadian Experience (http://www.cdnexperience.ca) now running in over 70 multicultural publications (including the Oye Times!), was the inspiration to launch BringBackTheAct.ca to invite all Canadians to help gain access to the basic documents which are the foundation of our nationhood. To enable such historical documents to be entrusted to the Canadian Government and displayed for all Canadians to see will represent the last step Canada takes to finally 'repatriate' our Constitution.
Peel Regional Police

Peel Regional Police is dedicated to providing the citizens of Peel Region with the best police service possible, utilizing the diverse skills, abilities, roles and views of our community.
Click HERE for more details about Peel Regional Police.