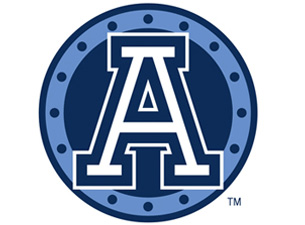 11th year of award-winning program brings students together to share ideas on bullying prevention
The Toronto Argonauts Football Club will close out another successful year of its award winning Huddle Up Bullying Prevention Program, now in its 11th year, with a series of Student Symposiums this week. The Symposiums, one for elementary school students and one for secondary school students, bring together student leaders from GTA schools that were visited by the Argos' Huddle Up Bullying Prevention Program, presented by Tim Hortons, throughout the 2011/2012 academic year.
Well over 250 students and teachers will be ready to brainstorm and share ideas that helped keep their schools safe from bullying behaviour. Toronto Argonauts Manager, Community Relations, Jason Colero will address the large groups, while Argos players LB Jordan Younger, DB Matt Black, OL Joe Eppele, WR Sammy Tranks, WR Mike Bradwell and LB Tristan Black, and members of the 2012 Argos Cheerleaders will lead small group discussions.
New for 2012, the Secondary School Symposium will feature a cyber bullying discussion led by Constable Scott Mills of Toronto Police Services. The students will also have break-out sessions facilitated by Argonauts players and cheerleaders, Tim Hortons store owners, and UofT Varsity Blues football players on issues and topics brought forward by the high school committees. Also new, the Elementary School Symposium will feature a discussion panel made up of Argos players, cheerleaders and program staff. The panel will lead the student discussion and the students will have an opportunity to ask questions of the panel.
The Symposiums are a precursor to the June 19 pre-season game against the Montreal Alouettes. Kickoff has been changed to noon, allowing for a special end-of-year field trip for students from various school boards in the GTA to celebrate student success. Thousands of students are expected to attend and information from the Huddle Up Bullying Prevention Program will be incorporated into the game.
The Huddle Up Bullying Prevention Program uses the personal stories of Toronto Argonauts football players to encourage friendship and inclusion, and reduce or eradicate bullying. Annually, the Huddle Up program reaches close to 30,000 students, and 700 of their parents with an impactful message that was developed in conjunction with the Canadian Safe School Network.
Over the last decade, Huddle Up has reached over 250,000 students across the GTA ranging in age from 8-18. In 2009, the Huddle Up program became recognized on the Ministry of Education's Registry of Bullying Prevention Programs. The Argonauts are the only Canadian sports team to have a program registered. In their 11th year, the Argos Huddle Up Bullying Prevention Program continues to be a front runner within schools in raising awareness on bullying and taking steps to prevent bullying.
Here are the details for the 2012 Huddle Up Student Symposiums:
Huddle Up Secondary School Symposium
Date: Wednesday, May 9, 2012
Time: 10:00 a.m. – 1:00 p.m.
Location: University of Toronto – St. George Campus
Athletic Centre – Sports Gym
55 Harbord St. – Entrance off Huron Street
Toronto, Ontario
Players: Tristan Black, Joe Eppele, Sammy Tranks & Jordan Younger
Huddle Up Elementary School Symposium
Date: Thursday, May 10, 2012
Time: 9:30 a.m. – 1:00 p.m.
Location: University of Toronto – St. George Campus
Athletic Centre – Sports Gym
55 Harbord St. – Entrance off Huron Street
Toronto, Ontario
Players: Matt Black, Mike Bradwell, Joe Eppele & Sammy Tranks