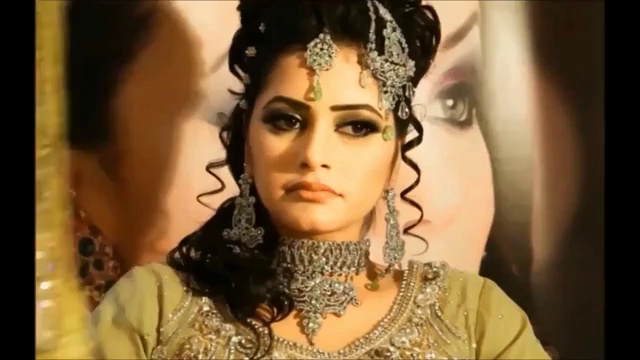 Being an Eastern bride is synonymous with the color red. Red is the color of devotion and love and being a quintessential Pakistani dulhan. Despite the classic appeal of a red jora, the contemporary touch has also been incorporated by the Pakistani designers, as of late. The women have become more daring in the choice of wedding apparel and this in turn has led to the bold onslaught of colors, patterns and designs by the designers.
The trend has slowly shifted from classic elegance to modern vibrancy. From the colors down to the cuts, the bridal collections of nearly all the renowned designers have evolved stunningly. The cholis have become more bollywood, the gowns have become more regal and fairy-like, the lehngas; more feminine and voluminous, and, the saris have become sexier than ever.
There has also been a drastic change in the choice of fabric, ranging from Chantilly to hand-woven silk, pure jamawar, the use of gota has increased and the bridals are heavily accentuated and inspired by royalty of all ages.
Trends surely do come and go, however the magicians who create such gorgeous works of art are immortal in their own regard. Their creations are timeless, and cater to women of diverse tastes. This season brands like MNR Design Studio is all set to astound everyone with his delightful bridal collection "bidai".

1.
Weddings in summer scream heat, hence the bridal trends for this season are all about looking striking whilst, making use of sheer, light fabrics that are easy to carry and a delight to watch. The flowy lehngas with intricate dabka and delicate chiffon are exquisite.

2.
Saris are one of the most glamorous and highly elegant forms of clothing. And this season designer has accentuated the femininity of this apparel by working on silhouettes that are visually Bollywood. The fabric used comprises of jamawar, pure silks, and brocade chiffon.

3.
Bridal gowns are classic, have been and always will be. This season it's all about working with the flair and giving these gowns a very royal look. There has been a wide array of hues and shades used ranging from the palest of pinks to the bluest of blue. The silhouettes are long this season for bridal gowns to give the woman adorning it a more regal look.

4.
The classic gold and red combination is eternal. A slight hint of gota and some ethereal jewels embellished in the shirt. The delicate silk lehnga and a contemporary finish makes up for a striking bridal jora.

5.
The ultra feminine skirt lehngas are a must have for all the brides, and, the bridesmaids alike. Velvet as a key fabric in the cholis and bejeweled necklines and multi-colored stone work, sequins, and tilla art just looks stunning on a bride.
Also watch Pakistani Bridal Makeup Tutorial below:

Pakistani Bridal Makeup Tutorial by fashioncentralpk
Click HERE to read more from Fashion Central