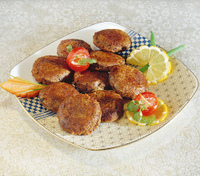 Shami Kabab
Ingredients:
½ kg minced meat without fat.
2 tbsp chana dal washed and soaked in water for ½ hr.
1 tsp dhania jeera powder.
1 tsp garam masala.
10 garlic flakes.
2 pieces dalchini. (cinnamon)
3 cloves.
1 piece ginger.
2 elaichi. (cardamom)
A pinch of pepper.
1 tsp chili powder.
A handful of Kothmir and chopped pudina.(mint leaves)
1 egg.
Juice of ½ a lemon.
1 finely chopped onion.
Oil for frying.
Salt to taste.
Method :
Wash and drain the mince and mix the chana dal, whole spices, a cup of water and salt to taste. Cook till dry. Remove from the fire and add ginger, garlic, pepper, chili powder, dhania and jeera powder then grind the mixture into a fine paste and knead into a dough. Add the chopped pudina, kothmir, lime juice and salt to taste. Make lemon sized balls of the dough, flatten the balls and stuff these with a little onion mixture, dip the stuffed kebabs in the beaten eggs and shallow fry till cooked.