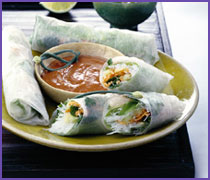 Ingredients:
25 to 30 spinach leaves
4 boiled and mashed potatoes
1½ tsp amchur powder
1 onion, chopped
3 green chillies, chopped
1 tbsp ghee
Salt to taste
Oil for deep frying
For serving
Tomato ketchup
For the batter
½ teacup gram flour
½ teacup rice flour or plain flour
½ tsp chilli powder
½ tsp salt
1 teacup water
Method:
Heat the ghee and sauté the onion for 1 minute.
Put the green chillies and sauté again for a few seconds.
Put the potatoes, amchur powder and salt.
Cool and shape into rolls.
Put a small roll of the potato filling in the centre of spinach leaf and wrap the leaf round the potato roll.
Repeat the same procedure for the remaining filling and spinach leaves.
Combine the Ingredients for the batter.
Dip the rolls in this batter and deep fry in oil.
Ready to serve hot with tomato ketchup.