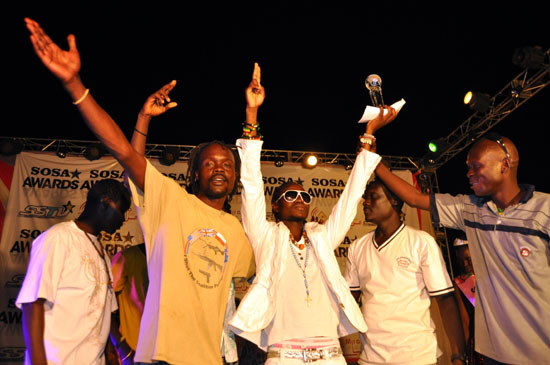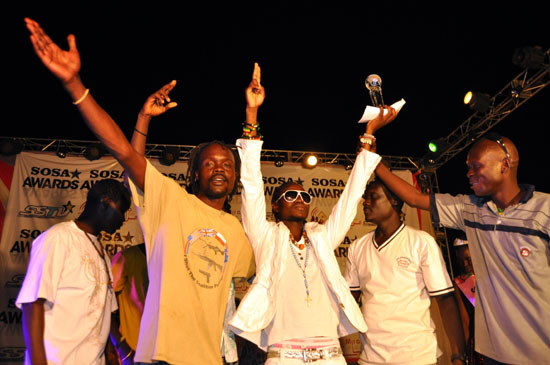 The two expressed their heartfelt joy in front of hundreds of fans who attended the event.
"This is the beginning of bigger awards. Thanks to all may fans; I will always be the best. Winning the best male artist means a lot to me," a happy Wonlok James said.
The King of Lokilili was awarded after performing his best hit 'Kulayi' as the mesmerised fans danced to the tune accompanied with various dancing styles.
Queen Zee who performed her single hit "Galbi Gi Waja" featuring MJ thanked all her fans for the award as the best female artist of the year award.

After being crowned the best dancehall artist, Silver X (Real name: Okuta Ceaser Malis) drove the crowd crazy while enjoying his songs word by word and promised to make it better next time.
The music industry in South Sudan is rapidly growing. From 2005 to 2008 most songs played in radio stations were foreign mostly from East African countries with a few South Sudanese hits. Currently 60% of the songs played are South Sudanese based.
The number of the artists is also growing every day with serious competition setting the pace in this year's SOSA awards.
Most artists performed their songs using the Arabic Juba language which is the simplest and commonly spoken in the streets and homes of South Sudan. This plays a big role is promoting the local artists.
The first ever South Sudanese Music Awards were organized by JUBAWOOD Entertainment and Productions; a broad based entertainment firm simply knows as SOSA, to promote South Sudanese artists and their music both locally and internationally.
Winners and categories
1. Best Hip-Hop Artist: Lawless YB
2. Best Reggae Artist: Rap Dog
3. Best Dancehall Artist: Silver X
4. Best R&B Artist: J2 Guys
5. Best Soukous Entertainer: Emmanuel Lasu
6. Best Afro Beat Entertainer: Kang JJ
7. Best Gospel Artist: Gen. Manasseh Mathiang
8. Favorite Country & Traditional Male Artist: Gordon Kong
9. Favorite Country & Traditional Female Artist: Nyankol Mathiang
10. Favorite Country & Traditional Song: John Kudusay
11. The Most Contributed Referendum Artist: Emmanuel Kembe
12. The Most Contributed Referendum Song: Doup Pur Doup
13. Best Group of the Year: Coozos Clan
14. Best Male Artist: WJ
15. Best Female Artist: Queen Zee
16. Best Stage & Life Performance Artist: Mr. Lengs
17. Best New Artist: Mt7
18. Song of the Year: Wallay by Silver X
19. Best Collaboration Song: Rasta Jimmy "Masura" Featuring Scorp J
20. Best Video of the Year: Love by Lam Tungwar
21. Best Male TV Presenter of the Year: Simon Bingo
22. Best Female TV Presenter of the Year: Paleki Mathew
23. The Best Male Radio Presenter of the Year: Tethluach Peter- SRS 98.6 Fm
24. The Best Female Radio Presenter of the Year: Aidah Khamis- Miraya Fm
25. SPECIAL AWARDS: Humanitarian Awards: Mr. Valentino Achak Deng –Founder of VAD Foundation
26. Life Time Achievement Awards: Former NBA Player Late Manut Bol