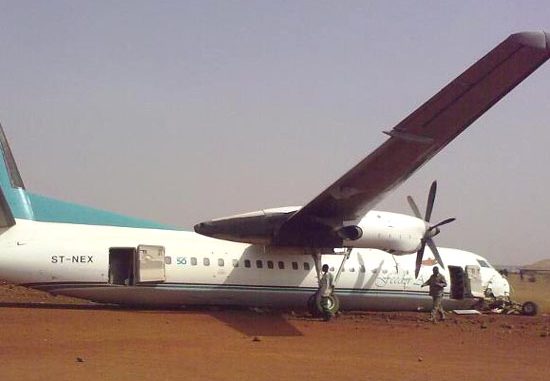 The plane took off from Juba to Wau with 50 passengers on board including the Western Bahr el Ghazal state SPLM secretary Mr. Paulino Adam Naro.
"I just found myself outside on the runway grounds with others who were seated next to me in plane. I don't know what really happened when the plane attempted to land," a terrified Adam told Gurtong.
"God is great that we all survived such an accident," he said.
There were no casualties reported but the plane's captain only know as Nikola is currently admitted at Wau Teaching Hospital due to injuries sustained according to a WBGS press official Mr. Justin Saled.
Saled said that according the security sources at the airport, the pilot was directed not to land there due to the ongoing constructions.

The crash was blamed on the ongoing constructions in the airport. The aircraft's landing wheels were badly damaged due to the rugged runway.
Feeder Airlines
Feeder Airlines is an airline based in Juba, South Sudan. The inauguration day for its official launching was 2 June 2007. It operates scheduled and charter service, out of Juba International Airport.
The airline is majority owned by South Sudanese nationals. It serves major airports within South Sudan, using Juba International Airport as its hub. Beginning in March 2010, the airline maintains daily service between Juba and Entebbe.