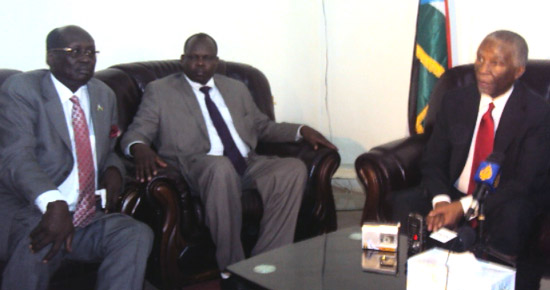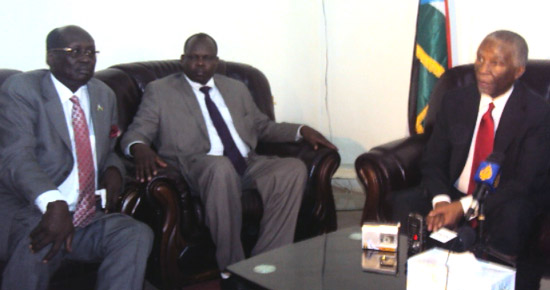 Mr. Thabo Mbeki, the AUHIP's head accompanied by Pierre Buyoyo, former Rwandese President spoke to the press shortly at Juba Airport, stating that, his visit aims at seeking advice from the two presidents in order to get a way forward.
"We have come to Juba essentially to see H.E President Salva Kiir to seek his advice about the next steps that we should take with regards to the relations between South Sudan and Sudan," Mbeki said.
"We wanted to discuss with President Kiir before we proceed to Khartoum as part of the preparations for that summit," Mbeki added.
Juba and Khartoum failed to strike a deal on security last Wednesday in Addis Ababa aimed at reducing a high tension between the two countries flared up after fierce clashes that broke out last month.
The slated April summit compelled by the AU aimed at finding holistic solutions to the remaining outstanding post secession issues; oil, Abyei, border demarcation was cancelled due to the border clashes that are still going on.
Last Wednesday South Sudanese authorities reported that elements in Khartoum renewed their bombings at the Sudan-South Sudan border targeting the oil fields. These latest insecurity unrest condemned by the international community appears to be a critical deterring factor for the two countries to reach any agreement.