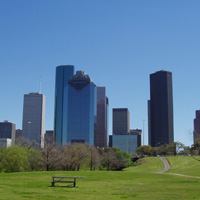 Charges are pending against a suspect in an incident in which a Houston police officer wounded a suspect at 800 Northwest Mall about 2:15 a.m. today (Monday, May 16).
Juan Jaimes (H/m, DOB: 7-3-89) faces a charge of felon in possession of a firearm. His photo is not currently available.
Sergeant A. Elizondo, who discharged his duty weapon, was not injured in this incident. Sergeant Elizondo, assigned to the HPD Emergency Communications Division, was sworn in as an officer in August of 2000.
HPD Homicide Division Sergeant K. Tolls and Police Officer L. Carballo reported:
Uniformed HPD officers working an approved extra job at the "El Chapparal" night club were informed by night club employees that someone in a dark-colored BMW had fired multiple gunshots. Upon seeing the responding officers, the driver of the BMW refused to stop and continued to drive dangerously through the parking lot, striking several vehicles.
After the BMW was forced to stop due to a collision with another vehicle, the suspect, Jaimes, exited the BMW and quickly began moving in the direction of Sergeant Elizondo. Believing the suspect to be armed, and fearing for his own safety and that of the patrons in the parking lot, Sergeant Elizondo discharged his duty weapon at the suspect, striking him in the hand. The suspect then fled on foot for approximately 200 yards before he was apprehended by police and transported to Ben Taub General Hospital for treatment.
A weapon was recovered at the scene