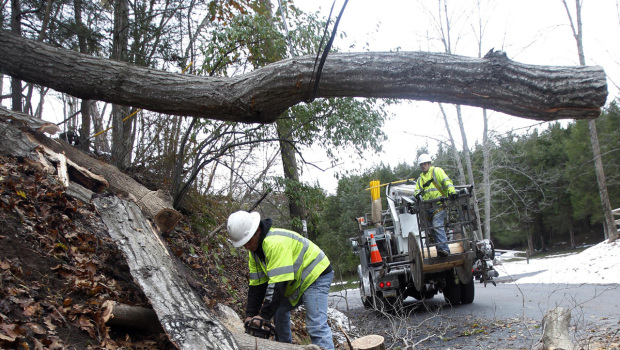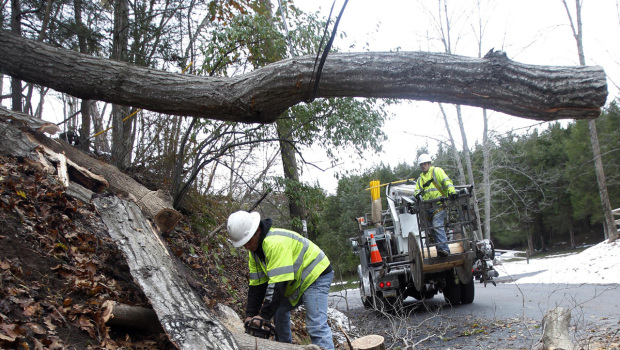 Thousands of would-be superheroes, ghosts and witches were waiting to collect Halloween candy and nearly 2 million homes and business across the Northeast were waiting for lights to come back on as cities and towns struggle to recover from an early season snowstorm that snapped branches and tore down power lines.
Many towns asked parents to postpone or cancel Halloween revelry because of snow-clogged sidewalks, slippery surfaces and the possibility of more falling tree limbs. Some urged parents to take children trick-or-treating at malls or organize activities at home with friends.
Ana Cifelli said her daughter, a first-grader going as a cheerleader, and her son, a fourth-grader planning to masquerade as a pirate, will go trick-or-treating Friday.
"They're OK with it, as long as they know they're going to get dressed and go later," said Cifelli, of Nutley, N.J.
But 12-year-old McKenzie Gallasso of South Windsor, Conn., was disappointed when she learned officials in her town were advising families to call off trick-or-treating.
"This year I'll have to eat candy from my mom," said McKenzie, who was deciding whether to be a witch or a werewolf.
More than 3 million lost power at some point and utilities had restored electricity to hundreds of thousands by early Tuesday morning. Still, companies said the storm presented an enormous challenge, in part because of a large number of individual outages.
"We have a tremendous amount of work to do throughout the week," said Michael Wood, a spokesman for an electric utility in Pennsylvania, where more than 100,000 customers were without power late Monday.
Article Viewed on Oye! Times @ www.oyetimes.com