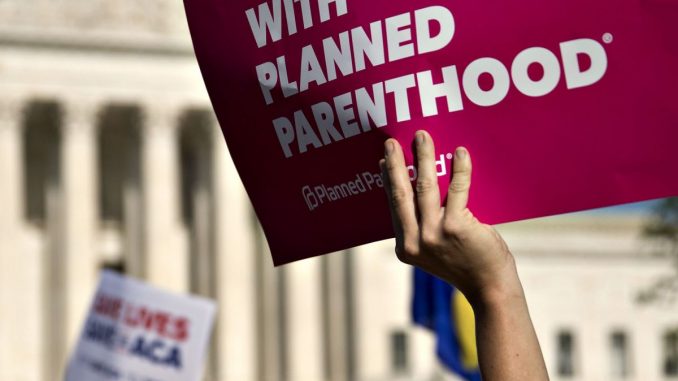 A federal appeals court has ruled that Arkansas can withhold Medicaid funding to Planned Parenthood. The 2-1 ruling vacated preliminary injunctions made by a federal judge that prevented the state from withholding Medicaid payments for services received by Planned Parenthood patients.
The court also ruled that anonymous Planned Parenthood patients who had sued the state don't have the right to challenge the defunding decision.
Arkansas is hardly the only state to make a substantial effort to defund Planned Parenthood, and today's ruling could potentially lead to a showdown in the United States Supreme Court. Judge Michael Melloy, who voted against today's ruling, pointed out that other other federal courts have ruled against defunding and said Planned Parenthood patients have a right to challenge the decision.
Planned Parenthood said it's looking into options to challenge today's ruling.
"We will do everything in our power to protect our patients' access to birth control, cancer screenings, and other lifesaving care," Dr. Raegan McDonald-Mosley, chief medical officer for Planned Parenthood Federation of America, said in a statement. "Extreme politicians are trying to defund and shut down Planned Parenthood — and this is not what Americans want. Every person deserves the opportunity to lead a healthy life and access care at a provider they know and trust, no matter who you are or where you live."
The state's Republican Attorney General Leslie Rutledge expressed his support for the ruling.
"The Court found that Planned Parenthood and the three patients it recruited could not contest in federal court Arkansas's determination that a medical provider has engaged in misconduct that merits disqualification from the Medicaid program," Rutledge said. "All patients should have access to ethical, quality and responsible health care, and should never be beholden to a company that is only seeking to protect its profits."
"This is a substantial legal victory for the right of the state to determine whether Medicaid providers are acting in accordance with best practices and affirms the prerogative of the state to make reasoned judgments on the Medicaid program," he added.
Arkansas currently operates Planned Parenthood health centers in Fayetteville and Little Rock. Medicaid funds have never been used for abortions in the state.
The organization was targeted by Republican legislators nationwide after several videos were released by the anti-abortion Center for Medical Progress. They allege that the videos show Planned Parenthood illegally selling fetal tissue for profit. The organization said the videos were heavily edited and a Texas grand jury cleared Planned Parenthood of misusing fetal tissue. The same jury voted to indict the two individuals who recorded the videos.
Click HERE to read more from Refinery29


Loading ...