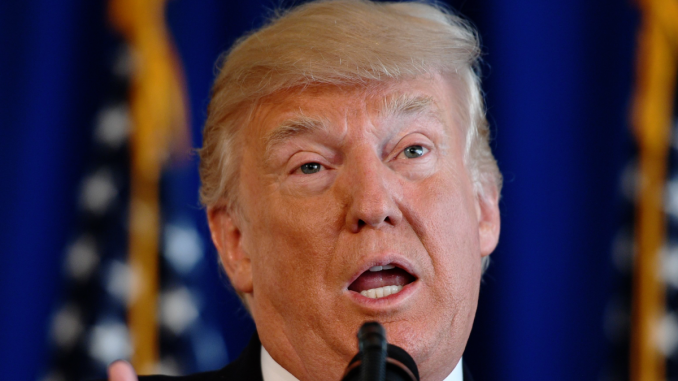 There's some who secretly hoped that when President Donald Trump arrived in the White House, his compulsive Twitter habits would change. But alas, that wasn't the case.
From tweeting "covfefe" in the middle of the night to taunting his political opponents to sharing anti-Muslim videos, Trump's behavior online has forever changed what it means for a president to communicate from the Oval Office. In fact, Trump himself has said (on Twitter, naturally): "My use of social media is not Presidential — it's MODERN DAY PRESIDENTIAL." And according to former White House press secretary Sean Spicer, the tweets should be taken as "official statements," which has put the administration in hot water in more than one occasion.
This year was obviously an eventful one — even on the president's feed. Ahead, a look at Trump's most bonkers Twitter feuds of 2017.
Trump vs. Scarborough-Brzezinski: Ex-Besties Edition
The president spent a lot of 2017 going after his former friends,
Morning Joe
anchors Mika Brzezinski and Joe Scarborough, who he even once
offered to marry at the White House.
Their relationship has soured over the last year, and the anchors have been highly critical of the Trump administration. This hasn't been sitting well with Trump, who has claimed Morning Joe has low ratings and implied Scarborough had something to do with the 2001 death of a staffer.
Meanwhile, in a June tweet he attacked Brzezinski's intelligence and appearance, calling her "low I.Q. Crazy Mika" and alleging that "she was bleeding badly from a face-lift" during a New Year's Eve visit to Mar-a-Lago.
Trump vs. Cruz: Nasty Edition
In the days after Hurricane Maria devastated Puerto Rico, San Juan Mayor Carmen Yulín Cruz had only one plea: "Save us from dying," she said. "We are dying, and you are killing us with the inefficiency."
Trump's reaction to the criticism was to lash out at Cruz, saying she was "told by the Democrats that you must be nasty to Trump." He also called her a poor leader and implied she was one of some "politically motivated ingrates."
Trump vs. Wilson: Wacky Edition
Rep. Frederica Wilson called out President Trump for mishandling a call to Stg. La David Johnson's widow Myeshia Johnson. POTUS has denied he was insensitive towards Myeshia, who lost her husband during an ambush in Niger.
Instead, he directed his anger towards Wilson, giving her the nickname "Wacky" and saying she lied about the contents of the conversation. (Sgt. Johnson's mother confirmed Wilson's and Myeshia's account, saying: "President Trump did disrespect my son and my daughter and also me and my husband.")
Trump vs. Black Athletes: Patriotism Edition
One of the biggest controversies for President Trump during the fall was that athletes were kneeling during the national anthem. In the immediate aftermath of Hurricane Maria devastating Puerto Rico and the U.S. Virgin Islands, Trump tweeted about the controversy surrounding the NFL, the anthem, and athletes more than 20 times over several consecutive days.
He went after Colin Kaepernick, though he never mentioned his name, and other Black athletes such as NFL player Marshawn Lynch. Trump also targeted basketball star Stephen Curry, who chose not to go to the White House with the Golden State Warriors and defended Kaepernick from Trump's attacks. The president "disinvited" the team, which led to several reactions (including basketball player LeBron James telling Trump: "U bum @StephenCurry30 already said he ain't going! So therefore ain't no invite.")
Trump vs. Journalists: "Fire Them" Edition
In early December, The Washington Postreporter Dave Weigel shared a photo describing the size of the crowd at a Florida rally for Trump. Weigel deleted the post soon after he learned the image was misleading. But even though he apologized for his mistake, Trump still called for him to be fired.
He also went after ESPN anchor Jemele Hill in October after she criticized him on Twitter, calling him a "white supremacist." White House press secretary Sarah Huckabee Sanders, on behalf of the president, said that Hill's tweets were a "fireable offense." Meanwhile, Trump tweeted about Hill and his favorite thing: ratings.
He wrote, "With Jemele Hill at the mike, it is no wonder ESPN ratings have "tanked," in fact, tanked so badly it is the talk of the industry!"
Trump vs. Ball: International Incident Edition
In early November, UCLA basketball players LiAngelo Ball, Cody Riley, and Jalen Hill went to China as part of a team trip. The trio was arrested after allegedly stealing a pair of designer sunglasses at a luxury mall and they were put under house arrest in their hotel, not jail. According to White House Chief of Staff John Kelly, they were let go after Trump talked with Chinese President Xi Jinping about the case during his 12-day trip to Asia.
Trump bragged about it on Twitter, but LiAngelo's father LaVar Ball downplayed the president's intervention during an interview, saying: "Who? What was he over there for? Don't tell me nothing. Everybody wants to make it seem like he helped me out."
This didn't sit well with Trump, who responded by saying he should have left the three young American citizens rotting in jail.
Trump vs. Media: First Amendment Edition
It shouldn't come as a surprise that President Trump really went after the media this year, since he began 2017 by yelling at a CNN reporter "You are fake news!" during a press conference.
No one was safe from his angry tweets — except Fox News, who Trump constantly praised. From tweeting a video of himself "body slamming" CNN to asking who deserved a "fake news trophy," Trump really went after journalistic organizations with very little care for the First Amendment (an amendment that by the way, he says he "loves.")
Click HERE to read more from Refinery29


Loading ...