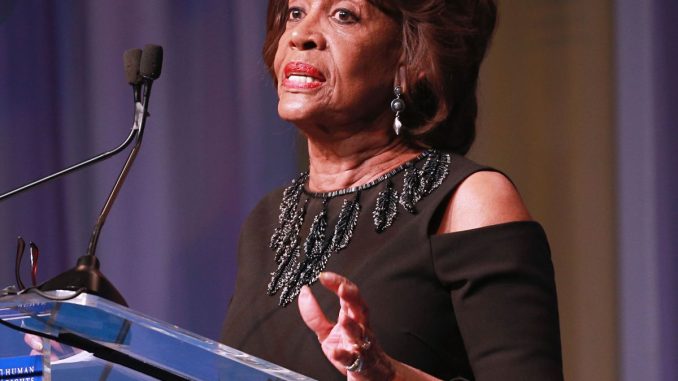 Democratic representative Maxine Waters spoke at the Human Rights Campaign's annual Los Angeles Dinner Saturday night, giving a speech that was pure fire. True to form, Waters did not mince words about Donald Trump, going as far as calling him "one of the most dishonorable, deceitful, and despicable people ever to hold public office."
While addressing the LGBTQ community, Waters explained how the Trump administration has made a series of "hostile overtures" against LGBTQ people. Included in her list were Trump's attempt to reinstate a ban on transgender service members, proposing budget cuts to programs assisting people living with HIV, and the Justice Department asserting that Title VII does not include the LGBTQ community. "Well, what do I think about all of this?" she said to roaring applause as she removed her glasses and made a face that let the audience know she was not in favor of any of this nonsense. As R. Eric Thomas so aptly wrote in Elle, Maxine Waters "did not come to play, is not here to play, and does not foresee playtime included on any future agendas."
In addition to Trump's lack of support for LGBTQ people, Waters reminded the audience of his many missteps when it comes to expressing empathy. His response to disaster relief in Puerto Rico, endorsing Roy Moore even after he was accused of pursuing sexual relationships with underage girls, and continuing to support Rob Porter even after knowing he had allegedly abused his two ex-wives. Even though Waters' main themes were addressing the LGBTQ community specifically, her list underscores one of the biggest recurring problems with Trump being president: his lack of compassion for those in vulnerable positions.
People everywhere
have embraced Waters as "Auntie Maxine"
for her unfiltered opinions about a wide range of policies. If she believes in something, you know it. If she is against something, you definitely know it. In a time when politicians are trying so hard to avoid directly answering questions, Waters' approach is desperately needed. Her voice cuts through the incessant chatter because she reminds us that we deserve better than the current political climate we're in. When an unending news cycle leaves us feeling hopeless, she insists with a strong and assured voice that
people matter and things can change
.
Waters, who is once again "reclaiming her time, in this speech" left the audience with a sense of hope. She encouraged members of the LGBTQ community to start describing themselves as patriotic. "You have taken the abuse, you have loved your country, you have worked with your country, you have done everything to strengthen this democracy. That is what true patriotism is about," said Waters, before ending on a note of optimism: "All is not lost. I feel very confident and hopeful about the future."
By the end of her speech, you can almost hear a collective "Yes Auntie!" from the crowd. Because while there are many people thinking it, she is the one standing up and saying it.
Click HERE to read more from Refinery29


Loading ...