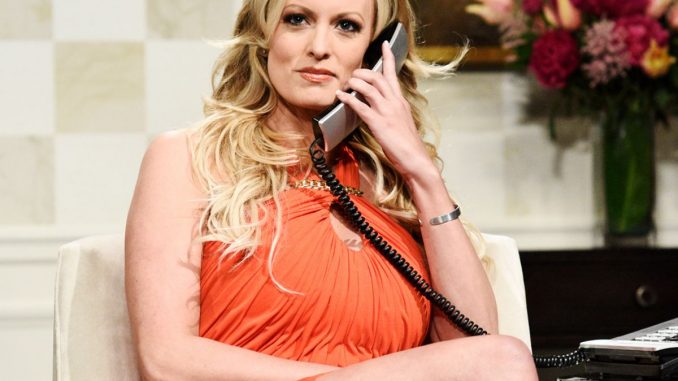 Saturday Night Live attempted to fit a record number of celebrities and recent news stories into a one cold open that proved more isn't always better.
With a comedic set-up of crossed lines, Ben Stiller as Donald Trump's lawyer Michael Cohen plays out a literal game of telephone as he anxiously attempts to get everyone to stick to the same story when it comes to Stormy Daniels. With each new phone call, there was a reference to a recent story in the news and key people surrounding Trump. In the end, Trump was less concerned with how his dalliances play out in the court of public opinion (or a court of law for that matter), and more concerned with getting back on Daniel's good side. "I solved North and South Korea," he said in his typical fashion of taking credit for something he had nothing to do with. "Why can't I solve us?" Knowing full well that it is just Alec Baldwin impersonating Trump, I can't help but recoil as he fails to suggestively flirt over the phone.
There was no shortage of celebrity cameos with Stiller, Baldwin rejoining as Trump, Jimmy Fallon and Scarlett Johansson as Jared Kushner and Ivanka Trump, Martin Short as
Trump's personal physician Harold Bornstein
, and
Stormy Daniels
as herself all making appearances.
SNL
cast members Aidy Bryant, Kate McKinnon, and Cecily Strong busted out their airtight impersonations of Sarah Huckabee Sanders, Rudy Giuliani, and Melania Trump. What none of them knew were that two FBI agents were also on the line.
While the sketch is rooted in a clever idea of conspiracy played out over the phone, the cold open began to feel like one of those large cast movies (less Avengers: Infinity War and more Garry Marshall's take on Valentine's Day) where there are so many characters that you can only keep track because all of the actors are individually famous.
In the chaotic process of fitting an ensemble of celebrities onto one screen, Daniels makes it clear that her foreboding message is heard by the real Trump. When asked what she would need for the scandal to go away, Daniels asked for his resignation. "A storm's a-comin baby," she warned with an all-knowing smirk as she stares down the camera. What does she know that we don't?
While the message was muddled by the medium, Daniels has a one track mind on this matter. She's ready to talk and there is nothing Trump can do about it.
Click HERE to read more from Refinery29


Loading ...