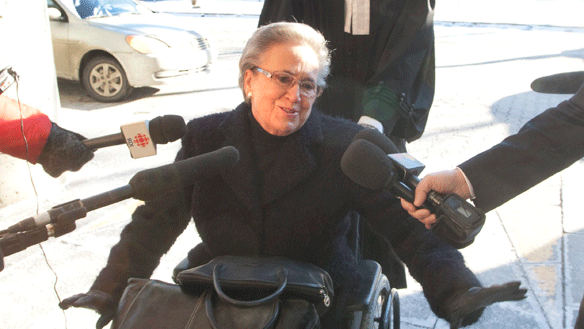 Lise Thibault, ex- Quebec lieutenant-governor, has been charged for allegedly spending public money for personal uses. According to Quebec City Judge Michel Auger, six accusations are laid against Thibault.
The 72-year-old Thibault is blamed for charging $700,000 of her personal expense to Canada's taxpayers. These figures were released in a report by former federal auditor general Sheila Fraser and her Quebec counterpart Renaud Lachance.
Thibault was Quebec's lieutenant-governor for a decade till 2007. She was initially probed for charges of fraud, forgery and breach of trust at the beginning of 2011. At the end of the inquiry, Auger felt the need of a proper court trial.
Auger made the announcement on Tuesday but the details of Thibault's upcoming trial are not to be published until court's orders. Thibault sat still in her wheelchair as the judge addressed the court.
Later, Thibault said: "I have always acted in good faith and worked in the interest of Canadian Quebecers."
She also said if her conducts were questionable, the provincial and federal governments, who gave her the taxpayers' money, should have been responsible enough to raise their fingers at that time.
"You know, the trial will allow me to speak and one day I'll write my autobiography so that citizens know how people who have the courage to enter political life pay a price," Thibault said.
Article viewed on Oye! Times @ www.oyetimes.com