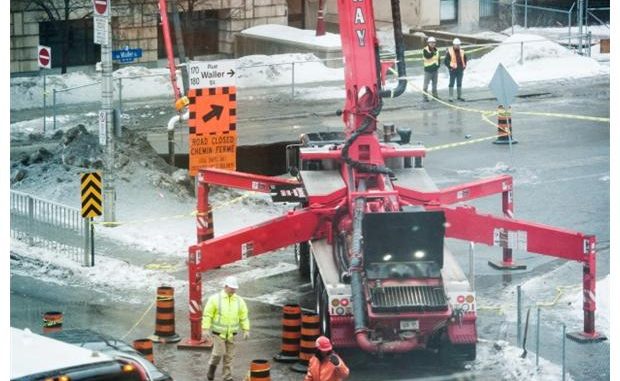 Deputy city manager of Ottawa, Nancy Schepers, mentioned in a press conference on Friday afternoon that tunneling under Waller Street, for the city's light-rail project, appears to be the only possible explanation anyone can figure out for why a sinkhole opened up near the intersection of Waller and Laurier Avenue.

At almost 1 a.m. in the morning, approximately three metres by three metres section of the Waller Avenue collapsed around just south of Laurier. Waller has been closed for the rail project and isn't being travelled, though the city closed the nearby intersection while the cause of the collapse is being investigated. City officials claim that leaking pipes, typically water mains, are one of the most frequent cause of sinkholes because even slow trickles of water dampen underground soil and then the surface falls in all at once. However, investigators have discovered that there is only pipe running through the area, which is a small sewer and there's no indication there was anything wrong with it until the collapsing ground broke it.

Construction director for the city's rail contractor Rideau Transit Group., Tim Stewart, revealed later that the first sign of trouble came to light at around 10 p.m. on Thursday. He explained that miners noticed "material" falling from the top of the face where a massive digging machine called a roadheader was working. He alleged that the crew stopped digging and watched for a short time, after which they pulled out roadheader and got out of the tunnel.