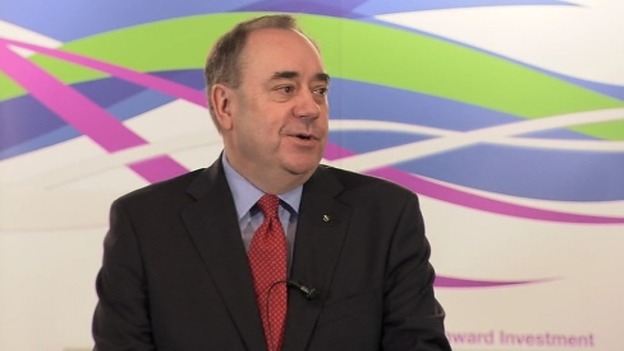 Scotland's First Minister Alex Salmond has threatened that an independent Scotland will not share its part of U.K. debt if it is not allowed to share the pound.
The currency 'pound' is also recognised as 'sterling' worldwide. It is regarded as one of the world's most stable currencies and is also one of the main battle-lines in the run-up to September's referendum for Scottish independence.
U.K. Chancellor George Osborne has ruled out during last week the rest of the U.K. would not want to share the sterling currency with an independent Scotland as he said: "if Scotland walks away from the U.K., it walks away from the U.K. pound".
In a speech to business leaders on Monday, Mr. Salmond has said that an agreement on sharing debt would depend on an agreement on a formal currency union.
In response on Mr. Osborne's claim, Mr. Salmond has said: "If there is no legal basis for Scotland having a share of the public asset of the Bank of England, then there is equally no legal basis for Scotland accepting a share of the public liability of the national debt."
Mr. Salmond has also quoted Professor Christine Bell when he said that if the U.K. claimed the share from all the assets, it would also get the share of all the liabilities.
Before the speech, Mr. Salmond has told: "The reality is the pound is as much Scotland's as the rest of the U.K.
"By suggesting otherwise, the Westminster establishment – Tories, Labour and Lib Dems – are reaping a backlash from the ordinary people of Scotland, who feel this is an attempt to bully Scotland ahead of the democratic choice we all look forward to this September."
"I will be deconstructing the Chancellor's ill-thought-out and misinformed intervention point by point, making clear why a currency union not only favours Scotland but is in the clear economic interests of the UK as well."
Also on Sunday, the president of the European Commission, Jose Manuel Barroso has said that it would be "extremely difficult, if not impossible" for Scotland to remain a member of the European Union in an event of independence from the rest of the U.K. – something the SNP rejected as "preposterous".
However, Mr. Salmond has claimed that no EU member state has indicated ­to block Scottish membership of European Union.
Article viewed on Oye! Times at www.oyetimes.com.