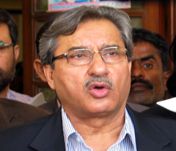 Pir Mazharul Haq is Sindh Minister for Education and Literacy. However, his acts and decisions show that the guy has nothing to do with education or literacy. A Lawyer by profession and member of ruling Pakistan Peoples Party, he is grandson of former chief minister Pir Ilahi Bux and hails from Dadu, Sindh.
Recently, the Pir came into news after announcing that this year summer vacations for the educational institutions in Sindh will be in July – August rather than the usual June and July. The reason behind this decision was that Ramadan will fall in August. According to him, this decision was taken to facilitate parents.
There are two parallel schooling systems going on in urban Sindh (not to mention the Madaris and so called Islamic schools). One comprises of set of schools that are affiliated with Board of Secondary Education and follow Matric system. Other schools follow Cambridge system (GCSE) or are affiliated with Agha Khan Board. Matric schools start their new academic year in April and have summer vacations after two months of study. While the schools following GCSE curriculum start new academic year from August.
As the decision came in May, parents, students and school administration were all taken by surprise. However, no one dared ask the Education Minister that was it dawned on him in May that Ramadan is two months ahead? Why this decision was not taken at the start of this year? to give ample planning time to schools.
The Cambridge -based schools resisted the decision while Matric schools had no other option but to accept this idiosyncrasy. After the pressure from Cambridge schools, it has now been decided that there will be two types of summer vacations in Sindh. Matric schools will have summer vacations in July – August, while schools following Cambridge curriculum will be closed in June -July. Nothing was said about schools that offer both types of curriculum to their students (for example, St. Patrick School in Karachi).
Sindh Education Department is infamous for giving holidays at whim and usually confronts with Private Schools' Management when the later want to close schools apprehending the law-and-order situation in Karachi while the Education Department insists them to open schools.
Previously, Pir Mazaharul Haq was Law Minister and was caught on TV slapping a guy while distributing relief goods in interior Sindh. He was later given the portfolio of Education and literacy and he is now virtually slapping the parents and schools with his stupid decisions.
Click HERE to read more
Article viewed at: Oye! Times at www.oyetimes.com