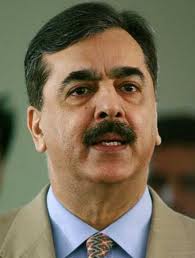 Prime Minister of Pakista Yousaf Raza Gillani spoke to the media on Wednesday after the detailed verdict of the Supreme Court of Pakistan has been issued regarding his conviction on the contempt of the court case for not writing letters to the Swiss authorities concerning graft cases of Asif Ali Zardari and said that he will not resign and that no one can make him resign from his office as it is unconstitutional and continues to serve as the Prime Minister of the country becoming the first ever convicted PM throughout the world.
Speaking to the team of journalists touring with him in Britain at the moment, he said "I have no yearning to stick to power but I will take it to the finality and exhaust all avenues."
When the media personnel questioned him over his refusal to writing to the concerned authorities on the orders of the SC, he only said that the constitution clearly states the ways in which a Prime Minister is forced to leave the office and that he will not give in to any of the unconstitutional manners encouraged by others. Explaining further, he said that now since the detailed verdict has been announced, he has the right to submit an appeal to the Speaker of the National Assembly and it depends on the speaker as to what action to take. And after the speaker, the burden falls on the Chief Executive Election Commissioner.