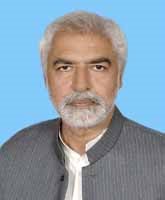 Let me enter an immediate caveat so as not to be misunderstood. Davis should be dealt with according to the letter of the diplomatic law. If he is without immunity then that's it and to this position we should stick, regardless of pressure or threats from the seat of the American empire. But why must we make a tamasha (spectacle) of everything? Why can't we handle this affair without fuss and without the drumbeats of patriotism sounding from every rooftop? And why, as we go about fashioning a response, must we present a picture of national disarray? The presidency in a tizzy, wanting a way out of this crisis and not being able to find one; the prime minister, as always, not in charge and hoping for the whole thing to blow away; the Foreign Office on a different page from the presidency; the former foreign minister, Shah Mehmood Qureshi, eager to turn this dilemma into the wages of heroism; and the guardians of national security not wholly able to avoid the suspicion that they are busy pulling the strings from behind.
Shah Mehmood Qureshi in Off the Record 2/17/11 – P1
http://www.youtube.com/watch?v=6WKoP9VUZUY
When the jihadi media goes into overdrive – some of the semi-literate babbling about national dignity and honour we are being treated to being quite an exercise in creative literature – and religious elements protest before the Press Club, Lahore, raising fists in the air and shouting full-throated slogans, it is possible to detect in these spirited forays the footprints of national security. Pakistan's security establishment is a kingdom unto itself. In any given crisis or incident it is not always clear what it is trying to achieve. But since old habits die hard, the knights of this establishment always seem eager to make their presence felt. Almost as if to say, we are not to be ignored. Or ignore us at your peril.
Shah Mehmood Qureshi in Off the Record 2/17/11 – P2
http://www.youtube.com/watch?v=U3-GgTB0NBg

To repeat the earlier point, if Davis is without diplomatic immunity, as seems to be the case, his prosecution should go ahead, regardless of anything else. But we can proceed along this path without too much frothing at the mouth. National dignity is better served by speaking softly. And protestations about national honour would sound more convincing if we could somehow put our permanent begging bowl to one side, for some time if not permanently. Shah Mehmood Qureshi's bravura press conference was bemusing: this is not the time to lower our heads but to raise them; I know that by speaking up harm can come to me but I will not bend when it comes to national honour; there is a lot more to tell and if the need arises I will do so. Oh really? Exaggerated as the comparison may seem, is he trying to sound like another Zulfikar Ali Bhutto? Silence would have suited Qureshi better but then silence is not a particularly Pakistani quality.
REFERENCE: The wry taste of ultra-patriotism Ayaz Amir Friday, February 18, 2011

http://www.thenews.com.pk/TodaysPrintDetail.aspx?ID=31573&Cat=9&dt=2%2F18%2F2011


Is this another Tashkent moment in our history? Shah Mehmood Qureshi may think so. His virtuoso press performance Wednesday, replete with dramatic pauses and high flown rhetoric, was as good an attempt as any to carve out a leadership niche for himself. Will he succeed? For those younger readers who may not be fully aware of the significance of Tashkent, this was the moment that made Zulfikar Ali Bhutto a national leader. In the public eye he became a hero when he ostensibly – it is still not clear to what extent – differed with his president, Ayub Khan, on signing a peace deal with India after the 1965 war. This was seen by the people as a betrayal. Primed by a constant anti India rhetoric and convinced of Pakistan's military superiority, they thought that Ayub had let them down. Ousted from the cabinet a la Shah Mehmood, Bhutto rode the tiger of anti India sentiment to popular leadership.
Shah Mehmood Qureshi in Off the Record 2/17/11 – P3
http://www.youtube.com/watch?v=jOUkBpqAXoQ
Click HERE to read the rest of the story.
Article viewed at: Oye! Times at www.oyetimes.com