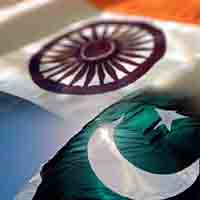 The Washington Post's Karen Bruilliard presents a brief, but telling, analysis of Pakistan-India trade (or the lack thereof):
"Pakistan and India share language, culture, history and an 1,800-mile border; they are South Asia's largest economies. What they barely share is trade – officially at least, because of a quasi-blockade that dates from partition in 1947, and all but chokes off commerce under a dizzying web of rules. The hurdles have spurred off-the-books trade, much of it shipped through third parties in such places as Dubai, where products are re-labeled as imports from other lands – journeys that result in 40-to-70-percent markups.
Only recently did Pakistan make its first export to India by truck: a load of gypsum rock.
"But economists, business groups and U.S. officials are pushing to loosen at least the most maddening restrictions, and they are hopeful that the two nations' decision two weeks ago to resume peace talks might help. Free trade, they say, would benefit both India and Pakistan and might help to ease tensions whose gravity is reflected in rival nuclear arsenals. "Economics 101 dictates that countries' major trading partners should be their neighbors," said Shuja Nawaz, director of the South Asia Center at the Washington-based Atlantic Council. "To change the dialogue from a zero-sum game to a positive, win-win outcome for both India and Pakistan, you need to start with the low-hanging fruit of opening trade and tourism."
"For a Pakistani economy in tatters, experts say, a freer flow of goods from India would allow cheaper access to products and raw materials, and could open up India, with its enormous population, to exports of Pakistan products such as cement. Some research indicates that bilateral trade – currently at about $2 billion a year, less than 1 percent of each country's total trade – could swell 20 to 50 times under more liberal policies. Estimates of illicit trade range from $2 billion to $10 billion a year."
Read the full article
here
.