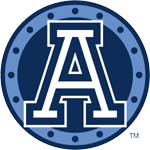 After 10 CFL seasons, Adriano Belli has ended his football career as a Boatman, literally. Belli invited friends, family and media to Toronto Harbourfront where he boarded the Tall Ship Kajama (pro: KAI-YAM-AH, 165-foot gaff rig schooner) and set sail for retirement.
Remarked Belli, "Please join me in supporting the health and preservation of all Canadian Football League quarterbacks as I regretfully step away from an occupation that has brought me so much pleasure. What a ride it has been playing in such an incredible league. From the Rockies of Vancouver to the Smoked Meat of Montreal, I couldn't have enjoyed our country more over the past 10 years than by playing in the CFL. It has granted me access to everything great that our country has to offer and I am truly grateful for all it and the CFL fans have given to me. I will miss crushing quarterbacks greatly, but will miss representing this great Canadian tradition that is the Canadian Football League even more. Argos forever! Biggest of kisses!"
Known around the CFL as the 'Kissing Bandit' for his European-style greetings and celebrations, Belli's dominant play up front made him one of the most feared defensive players in the League during his career. In ten CFL seasons, the former CFL All-Star (2005) and two-time East Division All-Star (2005, 2007) played in three Grey Cup Championships, winning one with Montreal in 2002. During his CFL career, Belli made seven post-season appearances, including five Division Finals. In 140 regular season games, Belli made 209 DT and 28 QB sacks.
Commented Toronto Argonauts GM & Head Coach Jim Barker, "Adriano will go down as one of the great players and characters in CFL history. His immense presence was felt by players on his own team, by the opponent and by the fans in the stadium and watching on television. He approached the game the way he approaches his life – with verve and excitement. As a football team, his physical presence will be truly missed but the legacy Adriano leaves behind will be with all of us who worked with him forever."
A passionate and galvanizing teammate inside the Boatmen's locker room, Belli also became one of the CFL's premiere community ambassadors and has been a team nominee for the Tom Pate Award. Through his Big Kiss Fund in support of Sick Kids Foundation in Toronto, he raised money through creative events like his Valentine's Day Dinner and Auction and, in 2008, with the help of Argos fans, he donated a sleigh full of toys and cash to Sick Kids Hospital during the holidays. Belli also invited kids from the hospital, and their families, out to each Argos home game from 2009 to 2010. Also in 2008, he committed fully to his cause by singing a classic rendition of the national anthem before an Argonauts home game and once performed on CTV's Canadian Idol. Adriano is also very active in the Argos' Big Men, Big Hearts program.
Bob Nicholson, President & CEO of the Toronto Argonauts, said, "Adriano represents all the best things of the CFL: a passion for the sports, a sense of humour and a desire to have fun playing the game, and a sense of community spirit and giving back. His presence and competitive spirit will be missed and we wish him all the best in his future endeavours. We look forward to honouring Adriano's career at one of our home games this season."
As one of the greatest players to ever emerge from downtown Toronto's Central Technical School, Belli carried his team to a Metro Bowl Championship in 1994. As a senior, he was recruited to NCAA Division 1A, University of Houston as one of the two best players in the entire city. Belli was drafted by the B.C. Lions in the first round, 6th overall, of the 2000 CFL Canadian Draft. He was traded to Montreal in 2001 and he played there until 2004 when he signed with the Hamilton Tiger-Cats. Belli was traded back to the Alouettes in 2006 and signed with Toronto as a free agent in 2007. Since graduating from Houston, Belli attended training camps with the NFL's Atlanta Falcons, New York Giants and Cleveland Browns.
Adriano was nicknamed the "Kissing Bandit" after an infamous kiss on the head of his then-coach, the legendary Don Matthews, with whom he won a Grey Cup in 2002. Don had the following to say about Adriano, "Adriano Belli is a game changer. With him, nationality doesn't matter; he plays as good as any inside defensive lineman I've ever seen. His motor is huge and he works hard every down with a smile on his face. He has the ability to keep his teammates loose and is a great locker room guy. If I were a coach starting a football team, I would choose Belli with one of my very first picks. Adriano – I wish you the best of luck in your retirement. You are one of the players I will always remember, both on the field and as a friend."