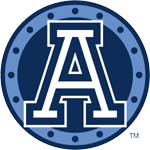 With rookie camp scheduled to open in exactly two weeks, the Toronto Argonauts Football Club continued to lock up its 2010 CFL Canadian Draft picks by signing speedy receiver Spencer Watt through 2012. Yesterday, the club also signed second overall pick OT Joe Eppele to a multi-year contract.
Watt was the Argos' third round pick, 18th overall, in this year's draft. He played three seasons at Simon Fraser University but started his collegiate career at Minot State where he doubled as a track athlete. As a senior with the SFU Clan, he caught 14 passes for 231 yards and scored two touchdowns, including a 91-yard reception for a major. Watt has speed to burn and was clocked at 4.4 seconds in the 40 yard dash at a scouting combine this spring.
Both Watt and Eppele will participate in rookie camp as all of the CFL rookies will take the field on June 2, along with new Argo QBs Dalton Bell, Danny Brannagan, Gibran Hamden and Cleo Lemon. Training camp gets started on June 5 with medicals and, on June 6, the entire team will begin two-a-day practices. The countdown is officially on until the opening of the 2010 CFL season on Canada Day and the Argos home opener on Wednesday, July 14.
New Argos Head Coach Jim Barker and his coaches have developed their playbook and are ready to get things started as the first pre-season game is at home at Rogers Centre on Sunday, June 13 at 1:00 p.m. vs. the Hamilton Tiger-Cats.
Training camp is open to the general public. Fans of the Double Blue will be able to check for the schedule, the location of camp and daily updates on-line at www.argonauts.ca. The 2010 Training Camp Prospectus and Training Camp Guide will be available to the media at training camp.