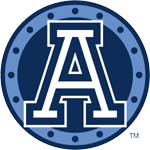 The Toronto Argonauts Football Club is thrilled to welcome CFL veterans WR Carl Berman and DB Denatay Heard, as a well as rookie DL Quartez Vickerson. Berman and Heard will arrive at Argos' training camp with the rest of the veterans on Sunday, while Vickerson will take the field for rookie camp at 3:00 p.m. today at Huron Park.
Denatay Heard is a quick defensive back who also handled kick return duties with the Saskatchewan Roughriders. He played two seasons with the 'Riders totaling 209 yards on 23 punt and kickoff returns. The Stillman College product also picked off a pass and made 8 defensive tackles. Denatay pronounces his first name Den-AA-tay.
Carl Berman also spent last season with the Saskatchewan Roughriders playing four games and accumulating 249 combined yards on offence and special teams. A two-year starter at Indiana State, Berman attended training camp with the NFL's Washington Redskins in 2007.
Quartez Vickerson At 6-foot, 6-inches and 300 pounds, the Grand Valley State alum is what is known as a 'space eater'. He has played in the AFL, AF2, NFL Europa and spent time with the NFL's Tennessee Titans. Quartez was born in Detroit, Michigan where his younger brother, Kevin Vickerson, currently of the NFL's Seattle Seahawks, played at Michigan State.