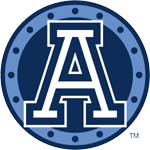 Argos QB Gibran Hamdan announced today that he has decided to retire from professional football.
Commented Hamdan, "First off, I'd like to say the Toronto Argonauts organization has been excellent to me and I hold Bob Nicholson, Adam Rita, Jim Barker and Jaime Elizondo in high respect. My short time with the Argos has been a great experience. Jim and the Argos are heading in a direction where they need 100% dedication and when I looked in the mirror, I knew I couldn't deliver that. My heart and dedication would not take this team to a championship and it would not be fair to my teammates, the organization and the fans to continue. I wish the Argonauts every success this season."
Hamdan, who signed with the Argos on March 10, starred at the University of Indiana before being named MVP of NFL Europa in 2006. He most recently spent time with the NFL's Buffalo Bills and was originally drafted by the Washington Redskins in the seventh round of the 2003 NFL Draft. Since entering the NFL, he's also been on rosters with the Seattle Seahawks, San Francisco 49ers and Miami Dolphins.
Jim Barker, Head Coach, Toronto Argonauts, remarked, "Gibran competed very well in camp but sometimes players get that feeling that it is time for them to retire. We respect his decision and wish him all the best in his future."
The Toronto Argonauts announced today that WR Matt Lambros has been released. Lambros was drafted by Toronto in the second round (10th overall) of the 2009 CFL Canadian Draft out of Liberty University. He spent most of his rookie season on the injured list (knee) after dressing in 3 games and scoring 1 TD.