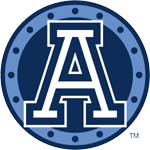 Toronto Argonauts Football Club would like to update its fans on the status of running back/slotback Steven Turner who was injured at practice this morning. Turner ruptured his left achilles tendon and will be having surgery to repair it this Friday. He is resting comfortably and the Club will do everything in its power to ensure he receives excellent care.
The Bishop's University product was drafted by Toronto in the fourth round, 30th overall, in the 2010 CFL Canadian Draft. Dubbed "The Afterburner" by those who saw his record-setting performances at the 2010 CFL Evaluation Camp, Turner streaked past scouts in the 40-yard sprint, turning in a world-class time of 4.3 seconds, and then cut down the vertical jump test leaping and unheralded 43.5 inches into the air. He was a two-time QUFL All-Star as a kick returner and scored six career touchdowns on both kickoff and punt returns.
Head Coach Jim Barker will provide members of the media with an update following Friday's surgery.