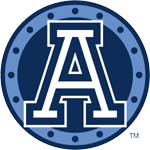 Argonauts WR/KR Chad Owens has claimed his third CFL Player of the Week award this season! The "Fly'n Hawaiian" has been named the CFL Special Teams Player of the Week for his inspired and game-changing effort against the Winnipeg Blue Bombers on Sunday afternoon at Rogers Centre.
Owens was unstoppable as a returner this weekend totalling 218 kick return yards and scoring his third kick return touchdown of the season. All told, he returned a single-game career-high eight (8) punts for 125 yards, 15.2 AVG, including an 80-yard punt return touchdown, with 4 kickoff returns for 93 yards, LG 30, 23.2 AVG.
Owens, who previously won CFL Special Teams Player of the Week during week 1 and CFL Offensive Player of the Week for week 7, is also leading the league in combined yards with 1,979 – more than 557 yards ahead of his closest competition (WR Deon Murphy, CAL). He is currently second in the CFL in punt return yards (597), kickoff return yards (742) and missed field goal returns (228).
The Toronto Argonauts would also like to congratulate DE Ronald Flemons on earning Runner-Up, CFL Defensive Player of the Week. Flemons, who won the award last week, set a new career-high with 9 DT, 1 QB sack, 1 pass knock down and a fumble recovery.
The Argonauts head to Moncton, New Brunswick tonight where, as the home team, they will host the Edmonton Eskimos on Sunday afternoon. Owens, Flemons and their teammates return to Rogers Centre on Saturday, October 2 to take on the Saskatchewan Roughriders.