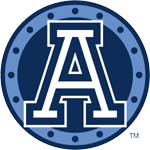 "FLYIN' HAWAIIAN" CHOOSES DOUBLE BLUE OVER NFL
Chad Owens
wants to play in a city he and his family love and on a team where he belongs and can make a significant contribution. He wants to win championships. And, above all, he wants to accomplish these goals in Toronto. The Toronto Argonauts Football Club is thrilled to announce it has extended the contract of the CFL's 2010 Most Outstanding Special Teams Player through the 2013 season.
Argonauts Head Coach/General Manager Jim Barker commented, "We felt Chad was a key piece to our team's future moving forward and I want to thank our Player Personnel Director Mike Hagen for his work on this contract through the negotiation process. Chad was the Outstanding Special Teams player in the league last year and we expect him to continue at that level of play. With a full season in our system under his belt and being a part of our training camp this year, we also expect Chad's contributions and productivity on offence to increase this year. As a player, Chad exhibits toughness and tenacity, with a superior work ethic. Like his college team, he is a true warrior and epitomizes the way we coach Toronto Argonauts to play the game."
WR/KR Owens was arguably the most exciting player in the 2010 CFL regular season. He was busy re-writing team and league record books all year and was recognized by his peers as being the biggest threat to score from anywhere on the field. The Flyin' Hawaiian led the CFL in combined yards (3288), punt return yards (1,060), punt return average (12.6), kickoff return yards (1,216), missed field goal return yards (425) and tied for the league lead with four (4) kick return touchdowns. He also became the fifth player in league history to accumulate 1,000 punt and kickoff return yards in a season.
Agent Richard Burnoski remarked, "After much thought, prayer, and discussion, Chad has decided to return to Toronto where he plans to finish his career. Chad and his family have decided to stay in Toronto because of the commitment the Argonauts and the fans in Toronto have made to the Owens family. Coach Jim Barker and the Argonauts have been very aggressive in their commitment to keep Chad in Toronto. Chad's main focus now is to help his team win championships on his way to what we hope will be Canadian Football Hall of Fame career."

Chad Owens commented, "I'm excited to continue to be an Argonaut. My pro career has seen a lot of ups and downs over the years. Last year in Toronto was a huge up and, as a pro, you look for those types of seasons. When looking at the whole situation, I realized that in Coach Barker I had a coach and GM who not only cared about me but also cared about my family. This contract helps take care of my family but more than that, I get to re-join a special group of players who I feel are my team in a city I feel is my home. This team has become my extended family and I'm honoured to be a part of this group who love me unconditionally. I really felt the aloha in Toronto from the moment I arrived and so did my family. This is where I want to be for my whole career. I'm glad this process is over so I can focus on what needs to be done to bring the Grey Cup to Toronto."
Chad Owens 2010 Highlights
Awards in 2010:
CFL Most Outstanding Special Teams Player (unanimous selection).
East Division Most Outstanding Special Teams Player.
CFL All-Star, Kick Returner.
East Division All-Star, Kick Returner.
CLFPA Pro Players' All Star, Special Teams
Team-record six-time CFL Player of the Week (five on special teams and once on offence). He was a unanimous choice for three of the special teams awards.
Special Teams Player of the Month for September and October. He was a unanimous choice in October.
Statistical Milestones Achieved in 2010:
Set new club record for total kick return yards (PR+KR+MFG) in a season (2,701).
Second in club history in single-season punt return yards (1,060) and kickoff return yards (1,216).
Second-best single-season combined yards total in club history (3,288).
Fifth player in CFL history to record 1,000 punt & kickoff return yards in a season.
Four kick return touchdowns in a season is the second-most in team history.
Led CFL in punt return yards & average (12.6), kickoff return yards and missed field goal return yards (425).