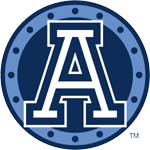 The Toronto Argonauts Football Club is thrilled to announce that another potential free agent has avoided the open market and re-signed with the Double Blue. Long snapper/receiver Chad Rempel has signed with Toronto through the 2013 season.
Commented Rempel, "I'm excited to be back with the Double Blue. Toronto is my home now, and I look forward to helping my teammates compete for Grey Cup championships in the years to come."
Rempel is coming off his first full CFL season as a starting long snapper. He secured the job during 2010 training camp and played in all 18 games as well as the post-season. The former University of Saskatchewan receiver, who played in two Vanier Cup championships for the Huskies, has dressed in 46 regular season games over parts of five seasons for the Argonauts.
Chad Rempel #82
Long Snapper/Receiver
6'3", 225 lbs.
Saskatchewan
Born: May 23, 1982
Sherwood Park, Alberta
6th Year Argos / 7th Year CFL
Non-Import
Acquired: Re-signed with Toronto on February 9, 2011.
2010: Started 18 regular season games at LS and played backup WR for Toronto…2010 Playoffs Started at LS and backup WR in Eastern Semi-Final win at Hamilton…Started at LS and played backup WR in Eastern Final loss at Montreal.
2009: Signed as a free agent with Toronto on July 20…Released by Hamilton on April 30…Signed with the Montreal Alouettes on June 9 and released… Signed with the Argos on July 20 and dressed in 11 games at backup receiver/tight end …Caught 9 passes for 76 yards, returned 1 kickoff for 4 yards and made 3 ST tackles before being added to 9-game injured list with a broken fibula…Week 4, Added to active roster on July 23… Dressed as backup WR in win at Winnipeg…Recorded no stats…Week 14, Dressed at backup WR and played ST but recorded no stats in loss at Saskatchewan…Left game in the first half with a broken left fibula…Week 15, Added to 9-game injured list.
2008: Extended his contract with Toronto on January 9, 2008…Attended training camp with Toronto and added to injured list for Weeks 1 and 2…Released by Toronto on July 6…Signed with the Hamilton Tiger-Cats and played 11 games making 3 catches for 48 yards.
2007: Played in the final 9 regular season games for Toronto after being placed on the 9-week injured list to begin the season…Dressed as backup WR but primarily played TE…Week 7, dressed in first game of the season, catching 1 pass for 7 yards and recording 2 ST…Week 12, recorded 2 ST tackles in win over Winnipeg…2007 Playoffs Dressed as backup WR and saw action at TE and on ST in East Final versus Winnipeg.
2006: Released by Winnipeg in training camp on June 10…Signed with Toronto as a free agent on August 1…Played in 8 regular season games as a backup WR/RB, spending time on the practice roster when not in the lineup…Week 7, dressed as backup WR and played ST in Argo debut (03/08/06)…Week 11, entered the game at receiver late in contest…2006 Playoffs Dressed as backup WR and played ST, making 2 ST tackles in East Semi-Final win over Winnipeg… Dressed as backup WR and played ST in East Championship versus Montreal.
2005: Attended training camp with Hamilton and released…Signed with Winnipeg Blue Bombers on July 5…Dressed in nine games as a backup WR and special teams player, missing six with an eye injury…Finished the season with three ST tackles.
2004: Drafted by the Edmonton Eskimos in the third round (35th overall) of the 2004 Canadian College Draft and released on June 5.
College: Played three seasons for the University of Saskatchewan Huskies…Recorded 120 career receptions for 2,352 yards and 17 touchdowns…2004 Played in Vanier Cup Championship… 2003 Sat out season with a broken foot…2002 Named Canada West All-Star…Played in Vanier Cup Championship…2001 Named Canada West All-Star.
Personal: Chad lives with his fiancé Krista in Mississauga. The couple, who will marry in May, are building a house in Oakville this off-season. He is part owner of a Booster Juice outlet in Saskatoon and is studying to complete his real estate license. He enjoys watching movies, playing video games and snowmobiling. Chad was the starting quarterback for the Salisbury Sabres in 1997 and 1998, the last time they competed for a provincial title.