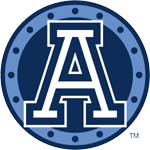 With just hours to go, the Toronto Argonauts Football Club is thrilled to announce that 2010 East Division All-Star, DB Lin-J Shell has avoided CFL free agency and extended his contract with the Argos. Shell will be with the club through the 2013 season.
Commented Argonauts G.M. & Head Coach, Jim Barker, "Lin-J was the team's rookie of the year in 2009 and played very well last season on a stellar defence. We're excited to be able to maintain continuity for our fans and keep our good players in place."
Entering his third CFL season, Shell has been sensational for the Argonauts and was rewarded with his first divisional all-star nod. In 2010, he was a stalwart in a defence that allowed a league-low 24.6 points per game and finished second in the East in interceptions (19). Shell tied for the team lead, tied for second-most in the East, with 4 interceptions for 49 yards. He also forced a fumble, knocked down three passes, finished fifth on the Argos with 63 tackles and pitched in on special teams with two (2) tackles. The Jacksonville-native was named the team's outstanding rookie in 2009.
Commented Shell, "The Double Blue is my home. This team gave me the opportunity to continue to live off my passion which is playing football. They have now rewarded me for my hard work over the last couple years and have given me the chance to come back and continue to play. With the captains of this ship that we have, who wouldn't want to come back and be a crew member? I'm happy to be back with my Argos family and look forward to bringing more wins and success to our great fans."