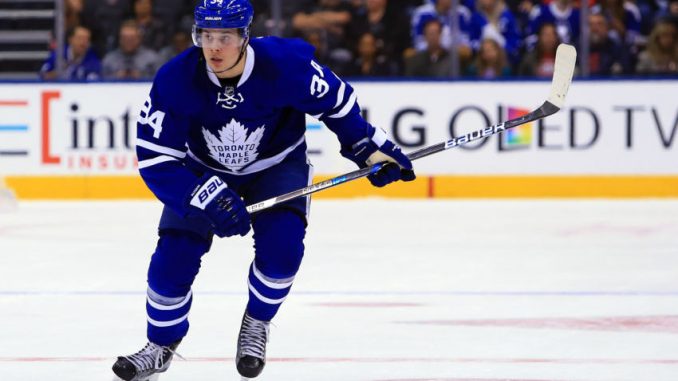 Boston Bruins defeat Toronto Maple Leafs to take 3-1 lead. Here is the summary of the game played on Thursday, April 19, 2018.
| | | | | | |
| --- | --- | --- | --- | --- | --- |
| | 1 | 2 | 3 | OT | FINAL |
| | 1 | 1 | 1 | – | 3 |
| TORONTO | 1 | 0 | 0 | – | 1 |
GAME SUMMARY | EVENT SUMMARY | FACEOFF SUMMARY

ON THE SCORESHEET
Tomas Plekanec put the Maple Leafs on the board at 7:43 of the first period. Plekanec's goal is his first of the playoffs. In 91 career playoff games, Plekanec has scored 17 goals.
Patrick Marleau registered the primary assist on Plekanec's first period goal. Marleau has points (2-1-3) in two consecutive games.
Mitch Marner picked up the secondary assist on Plekanec's first period goal. Marner has assists (4) and points (1-4-5) in three consecutive games.
Frederik Andersen made 18 saves in the loss.
SHOTS FIRED
The Maple Leafs had a 32-21 lead in shots on goal in all situations and a 30-20 edge in shots on goal at 5-on-5.
Toronto had a 77-40 lead in shot attempts in all situations and a 72-36 lead in shot attempts at 5-on-5.
James van Riemsdyk had a team-high four shots on goal.
Andreas Johnsson registered seven shot attempts to lead the Maple Leafs.
SHOTS ON GOAL
| | | | | | |
| --- | --- | --- | --- | --- | --- |
| | 1st | 2nd | 3rd | OT | TOTAL |
| BOSTON | 7 | 9 | 5 | – | 21 |
| TORONTO | 12 | 10 | 10 | – | 32 |
SHOT ATTEMPTS
| | | | | | |
| --- | --- | --- | --- | --- | --- |
| | 1st | 2nd | 3rd | OT | TOTAL |
| BOSTON | 17 | 14 | 9 | – | 40 |
| TORONTO | 24 | 22 | 31 | – | 77 |
OF NOTE…
Tonight's attendance was 19,689.
The Maple Leafs went 0-for-1 on the power play tonight. Toronto was not assessed a penalty in tonight's game.
Jake Gardiner was on the ice for a team-high 38 Toronto shot attempts-for at 5-on-5. He finished the game with a 5-on-5 shot attempt percentage of 71.7 percent (38 for, 15 against).
Patrick Marleau appeared in his 181st career Stanley Cup playoff game to move past Tomas Holmstrom and Henri Richard for sole possession of 34th on the NHL's all-time playoff games played register.
Auston Matthews was 5-for-5 (100%) in the faceoff circle against Boston centre David Krejci.
MAPLE LEAFS LEADERS
| | |
| --- | --- |
| Faceoff Wins | 11 (Matthews) |
| Faceoff Win Percentage | 100% (Brown, Hyman, Johnsson, Marner) |
| Hits | 4 (Polak) |
| Blocked Shots | 3 (Rielly) |
| Takeaways | 2 (Marner, Rielly) |
| TOI | 26:12 (Gardiner) |
| Power Play TOI | 1:18 (Rielly) |
| Shorthanded TOI | N/A |
| Shifts | 31 (Rielly) |
| 5-on-5 Shot Attempt Percentage | 86.7% (Kapanen – 20 for, 7 against) |
UPCOMING GAMES:
Saturday, April 21, 8 p.m., Toronto at Boston (CBC, TVA Sports, NBCSN)
*Monday, April 23, TBD, Boston at Toronto (TBD)
*Wednesday, April 25, TBD, Toronto at Boston (TBD)
*If Necessary
POSTGAME QUOTES:
HEAD COACH MIKE BABCOCK
On tonight's game:
Well I thought we played – I didn't think we had everyone going. They scored the first shift. I thought we took over and had the game well in control, even when we were down 2-1 I thought we were in a great spot because we had the puck a lot, playing good. In the end though, we made the two plays – we had a breakaway and a good two-on-one and we got nothing out of it. Both of their two-on-ones, one on a pinch and one where we hit the guy in the kneepad, they buried and we didn't make good plays on him to help our goalie out. In the end, that's the game. When Bergeron didn't play tonight, you're set up pretty good. You've got to find a way to win. This is in our building. You've got to win.
On Auston Matthews' performance:
I think the great thing about playoff time and being a young guy is that you get lots of lessons and no one is more aware of this than he is, I can tell you that right now. I'm assuming that he thought he was going to come tonight and dominate the game. That's what I thought. I thought the same with [Nylander]. That didn't happen. But the other people you're playing against are pros and they're trying too and they're competitive. There's regular season competitiveness and there's first-round Stanley Cup playoff competitiveness and it keeps amping up the whole way through. In order to find that out we've got to play better than we are right now, if we're ever going to find that out. In reality, when you leave here tonight as an individual, as a coach, as a player, you've got time to evaluate yourself and most guys are pretty honest.
On if Marner is the only "big-time forward" playing well:
I don't know who you'd call a big-time forward, but Patty Marleau is playing, [Plekanec] played tonight, I thought our fourth line dominated the game, I thought they had the most chances and they were really good. Down the stretch you go away from them a bit just because you've had your other guys all year. Those were our two best lines tonight.
On what prevented the team from scoring more:
I don't know, not enough happened. I'll look at the tape and go through it all and then we'll discuss it with our guys. We're in a simple situation – you win and you get to play again. If you don't win, you don't get to play again. To me, that's worth digging in for. I think we can go into Boston and win a game, I really believe that. We need a game out of our goaltender and we need all hands on deck to have success.
On planning for Bergeron's late scratch:
It was perfect, we just put the lineup up, we looked at the power plays and penalty kills because Nash, he had been out already. I knew it, put it up, gave them their matchups. We were set up pretty good tonight for us, we didn't take advantage. That's on us.
FREDERIK ANDERSEN (18 SAVES)
On the difference in tonight's game:
I think they executed on their two rushes in the second and third. I thought we played really well and tried to get to the net a lot. We just couldn't get it by him.
On if he didn't see the shot on Boston's first goal:
Yeah, I saw it initially but on the way in I lost it through the guys there. It's one I've got to fight to see and get something in front of.
On being down 3-1 in the series:
I think we definitely have it in our own hands. I think if we can play like we did today we can clean up a few things and execute better and we'll have a good chance of winning the next game.
RON HAINSEY (17:11 TOI)
On tonight's performance:
I thought our legs, especially in the first half, were as good as they've been. I thought we pressured them as good as we have. We spotted one early, a flukey one off the wall or whatever there and they got it back. I thought we had real good energy in the first. The second was pretty even. They got two odd-man rushes and their great players made the plays that make you pay when they got those opportunities. They did a better job of not giving us – excuse my memory – but I don't think we had any clear 2-on-1s or big 3-on-2s in the second half. They got the two of them and they buried them both. Obviously, that's the difference.
On Boston playing without Bergeron:
They played without him for a while when he broke his foot there and they continued to just keep on rolling. Obviously, I'm certain they'd rather have him in there. He's the best player on the ice most nights he's out there. They've got a great team, they're deep up front just like us. It wasn't like we were doing cartwheels in here when they were missing him. We didn't think we were going to have an easy night. That's a great team.
MITCH MARNER (1 ASSIST)
On tonight's game:
I thought we played a well-rounded game, we gave them some opportunities and they didn't miss on them. Now it's a do-or-die series.
On Boston's ability to take away dangerous chances:
They do a good job with their forwards of blocking shots and getting in lanes. I think even if we get it past the first guy there's usually a second guy underneath that's usually in the lane. Obviously, we're going to look at that and try to figure out ways to get it through. They did a good job of boxing out and blocking shots.
On his breakaway in the second period:
I saw the blocker quickly and I got it up a little too high I think. I knew a guy was chasing me, I didn't want to deke or anything and kind of lose the puck. I just went for it and it got up a little bit on me. He made a great save.
TOMAS PLEKANEC (1 GOAL)
On Boston's second period goal coming after a stretch of controlled play:
It definitely didn't help us. I thought we still could have shot the puck a little bit more, put the puck more to the net to have more shots, more pressure on their goalie. I thought we didn't do enough of a good job at that tonight.
On Boston countering the team's speed:
They played well, they played tight on us. They clogged the neutral zone there and a couple of times we got hung up there. I thought we did a fairly good job to get in their zone and try to pressure a little bit more. Like I said, I thought we needed more pressure on their goalie, more pressure at their net and I thought we didn't do that enough tonight.