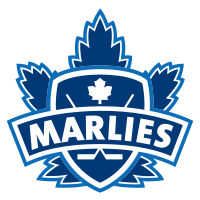 Marlies take a commanding 3-1 series lead in the Western Conference Semi-Final
The Toronto Marlies defeated the Abbotsford Heat Tuesday night by a score of 3-1 from British Columbia. Abbotsford dominated on the shot clock in the opening frame, outshooting the Marlies by a count of 10-3.
Toronto showed resiliency in overcoming a 1-0 deficit heading into the third period. Greg Scott scored two goals within a five-minute span to give the Marlies a 2-1 lead midway through the third. Scott completed the natural hat-tick, scoring into the empty net with less than a minute to go in the third period. Ben Scrivens was sensational in net for Toronto, stopping 35 of 36 shots in the victory.
Game five against Abbotsford goes Wednesday night from the Abbotsford Entertainment and Sports Centre. Puck drop is set for 10:00pm.
Goal Scorers:
Toronto –> Greg Scott (3)
Abbotsford –> Hugh Jessiman
Goaltenders:
Toronto –> Ben Scrivens – 35 saves on 36 shots
Abbotsford –> Danny Taylor – 14 saves on 16 shots
Quick Hits:
* Abbotsford outshot Toronto 36 – 17
* Greg Scott registered a natural hat trick. His three goal performance marked the first time he has scored in this post-season
* Greg Scott also registered the first shorthanded goal of the post-season for the Marlies