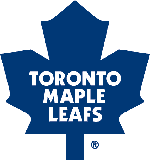 It is with deep sorrow that the Toronto Maple Leafs learned the passing of former coach Pat Burns, who passed away due to illness earlier today. Pat Burns was 58 years of age.
Toronto Maple Leafs President and General Manager Brian Burke:

"On behalf of the Maple Leafs, I want to convey our deepest sympathies to Pat's family, and the long list of his close friends throughout the hockey community. Our thoughts and prayers are with them in this time of grief."
Cliff Fletcher, Toronto Maple Leafs senior advisor and the general manager during Burns' tenure with the hockey club:

"Pat forged a tremendous bond, not only with a very good veteran team in Toronto, but also with Leafs fans everywhere. He commanded respect from the players and the team quickly had great success while taking on the identity of the head coach. The Leafs' rise at the time was a testament to Pat's strength, toughness and determination. Hiring him 18 years ago was easily my best decision in hockey, and we developed a great friendship that I will always treasure. Pat will be greatly missed."
Pat Burns is the only Leafs coach to win the Jack Adams Trophy as NHL Coach of the Year by leading the club to a 44-29-11 record in 1992-93 in his first season behind the Toronto bench. He is the only NHL bench boss in history to earn the award three times (also 1989-Montreal, 1998-Boston). The Leafs' resurgence in 1992-93, with Burns at the helm, marked the first time that the Original Six franchise advanced to the Conference Final since the 1977-78 campaign. The team would repeat their playoff success the following season in 1994 under his leadership.
With the Leafs, Burns posted a coaching record of 133-107-41 (.546%) in 281 games behind the bench. On the Leafs' All-Time Coaching List, Burns is tied with Red Kelly for fifth place in victories.
Overall, he coached in 1,019 NHL games in 15 seasons from 1988 to 2005 and compiled a record of 501-353-165. He coached the Devils to a Stanley Cup title in 2003.