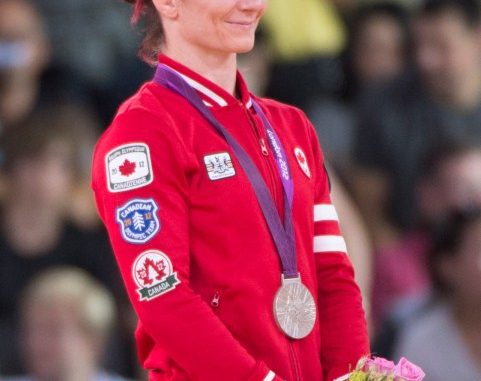 Wrestler Tonya Verbeek added a third Olympic medal to her collection today, taking silver in the women's 55 kg division. Verbeek also won silver in Athens in 2004 and bronze in Beijing in 2008. Canada has now won 16 medals in London.
"I felt really good going in. I felt like I gave my everything. I love wrestling and I really enjoyed myself out there in the final," Verbeek said. "I'm not planning on coming back to another Olympics, but I'm not taking off my boots today."
Verbeek went 3-1 to take silver, falling 3-0 to three-time Olympic champion Saori Yoshida in the gold medal match.
"Tonya's performance today was one for the ages," said 2012 Chef de Mission Mark Tewksbury. "She battled all day, facing off against top opponents time after time and now she's walking out of London with a silver medal."
"Tonya is a Canadian Olympic hero," said Assistant Chef de Mission Sylvie Bernier. "Winning three medals in three Games is such an impressive accomplishment. She is an inspiration to us all."
"We are all so proud of Tonya Verbeek and what she has done today," said Marcel Aubut, President of the Canadian Olympic Committee. "She has the heart of a true champion and has proven herself once again to be one of Canada's greatest Olympians."