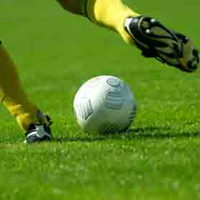 Former stars appointed to FIFA Task Force
Friday, April 15, 2011
Franz Beckenbauer and Pele will lead a FIFA-appointed team that will recommend ways to improve football ahead of the 2014 World Cup in Brazil, world football's governing body announced on Thursday.
The 22-member Task Force Football 2014, which will be headed by Beckenbauer (pictured right) with Pele (left) as the deputy chairman, will also include World Cup winners Bobby Charlton, Cafu and Christian Karembeu. Other former players include former AC Milan team-mates Demetrio Albertini and Dejan Savicevic, Fernando Hierro and Zambia's Kalusha Bwalya.
FIFA also appointed Swiss referee Massimo Busacca and officials from three countries that lost in the bidding tenders for the 2018 and 2022 World Cups: United States federation leader Sunil Gulati, England's Alex Horne and Japan's Kohzo Tashima. FIFA has stated that the panel will meet on May 10 in Zurich, Switzerland.
FIFA president Sepp Blatter said last year the Task Force would help to create "a more attractive" World Cup. "This vastly experienced team will address every facet of the game, tackling any challenges related to the game and coming up with appropriate solutions," read a statement from Blatter.
Source: SoccerEx Business Daily
Bin Hammam urges continent to support 'Asian project'
Friday, April 15, 2011
Asian Football Confederation (AFC) president Mohamed Bin Hammam has insisted he is representing his home continent in his tilt at the FIFA presidency.
The Qatari challenger to incumbent Sepp Blatter in the June 1 election stepped up his bid for the presidency by attending a South Asian Football Federation seminar on Thursday. The 61-year-old urged the continent to rally behind his "Asian project" to end Blatter's 13-year reign.
"I'm hoping that this attempt is going to be an Asian project, being for all of Asia," said Bin Hammam. "I'm representing all of you in this room and all of you in this continent. I will have to seek your support and I wish that every one of you pray that Asia will succeed in giving FIFA a president this time."
Referring to his chances of success, Bin Hammam added: "I gave myself a 50% chance and I hope this 50% grows. It's not about competing against one who has been in the seat for so long. The idea is that a lot of people are looking forward to changes and are looking forward to new ideas. With their support, the number can grow further."
Source: SoccerEx Business Daily
Kia gets into gear with Copa America
Monday, April 18, 2011
Car manufacturer Kia Motors has been installed as a global gold sponsor of this year's Copa America in Argentina.
Kia, which is also a commercial partner of the 2014 FIFA World Cup in Brazil, will provide the official vehicles to the local organising committee, while the company will receive exposure at the competition venues and during game broadcasts. Japan confirmed late last week that it would join 10 teams from South America and also Mexico at the tournament, which will run from July 1-24.
The event is backed by CONMEBOL, the Confederation of South American football, and the matches will take place throughout Argentina in the cities of Buenos Aires, La Plata, Cordoba, Mendoza, Santa Fe, Salta, Jujuy and San Juan.
"It is a great honour to be the partner of the world's oldest – and South America's biggest – football championship," said Tae-Hyun Oh, senior executive vice-president and chief operating officer of Kia. "We firmly believe that the signing of the agreement with CONMEBOL will be another milestone for Kia Motors to widen our presence as a worldwide football events partner and to increase our global brand awareness."
Source: SoccerEx Business Daily
Study highlights airport problems for Brazil World Cup
Monday, April 18, 2011
Only two of 13 airport terminal construction projects are on schedule to be completed by the start of the 2014 FIFA World Cup in Brazil, according to a research group backed by the country's government.
Brazil's Institute for Applied Economic Research, Ipea, stated that a third airport might be ready for the tournament "if everything goes right", but the shortage of air travel provisions could cause transport problems for fans.
"The situation is such that it's increasingly unlikely that these projects will be ready on time," said Carlos Campos, one of the authors of the study, according to Reuters. Ipea criticised state-owned airport authority Infraero, which it said "has a low level of efficiency in the execution of investment programs". Even if all 13 airport upgrades were to be ready on time, 10 are expected to be operating over capacity by the time of the World Cup, Ipea added.
Fourteen of Brazil's 20 largest airports are already operating at more than 80% of capacity. Around US$900 million has been budgeted by Infraero to upgrade the country's airports ahead of the competition, with the World Cup expected to attract up to one million visitors. In addition to the 13 airports being upgraded for the World Cup, a brand new airport in Natal, another World Cup host city, still has no firm date for completion.
Source: SoccerEx Business Daily
Japan to play in Copa America
Friday, April 15, 2011
The Japan Football Association (JFA) confirmed on Thursday that it had performed a u-turn on its decision to withdraw from this year's Copa America.
Japan had pulled out of the July 1-24 tournament in Argentina in the wake of the devastating earthquake and tsunami to hit the country last month, and 2010 FIFA World Cup-winner Spain had been lined up as a potential replacement. However, JFA general secretary Kozo Tashima told Kyodo: "The JFA decided to participate in the Copa America today."
Tashima continued: "We are in the process of notifying CONMEBOL (the South American football confederation) as we speak." Tashima added that the decision to play would "show the international community, not simply international football circles, that Japan is hanging on".
Japan and Mexico are the only two non-South American sides set to play in the tournament. J-League clubs have agreed to co-operate with Japan's participation in the Copa America as long as Europe-based players make up the bulk of the national squad.
Source: SoccerEx Business Daily
East Asian Football Federation backs Bin Hammam
Wednesday, April 20, 2011
The East Asian Football Federation (EAFF) has pledged its backing to Mohamed Bin Hammam in his fight against incumbent Sepp Blatter in the upcoming FIFA presidential elections on June 1.
EAFF president Chung Yun Cho expressed his support for the Asian Football Confederation chief in a bid to end Blatter's 13-year-reign at the helm of world football's governing body. His backing came after the South Asian Football Federation (SAFF) assured its support to Bin Hammam during the AFC president's visit to India last week.
"The EAFF Executive Committee…has unanimously welcomed the decision of Mr Mohamed bin Hammam, president of AFC, to stand for the presidency of FIFA," read a statement from the EAFF, which comprises 10 member associations.
The 61-year-old Qatari also has the backing of Chung Mong-joon, the honorary chairman of the Korean Football Association. Bin Hammam is touring the world as he steps up his election campaign ahead of the vote.