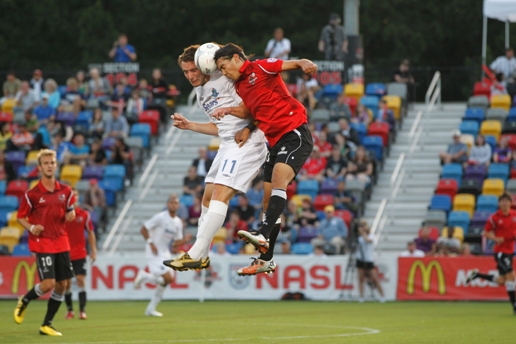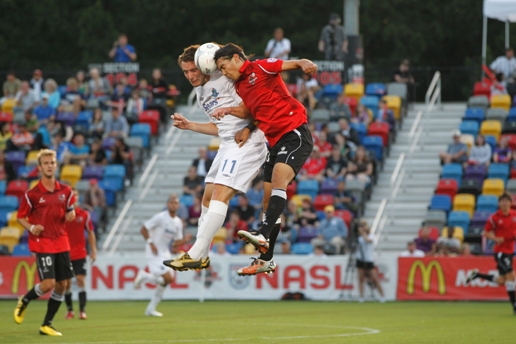 Goalless Streak Ends With Two Against Atlanta
The losing streak is over thanks to a 2-0 win against the Atlanta Silverbacks in Georgia Saturday night.
Both teams came out playing possession soccer and putting passes together but it was the visiting team who had the best chances in the first 45.
Midfielder Shaun Saiko came back from a Nutrilite suspension and took a pass from striker Kyle Porter but Saiko's shot went just wide of the far post in the 20th minute.
Atlanta was forced to make a substitution in the 27th minute bringing midfielder Raphael Cox on for striker John Cox and three minutes later captain Lucas Paulini shot just over Lance Parker's cross bar from 20 yards out.
In the 37th minute, defender Alex Surprenant made a run up the left side and crossed it into the box but striker Paul Craig just missed getting his foot on it.
The half's best chance went to FC Edmonton in the 40th when Porter passed a ball to Sam Lam who touched it on to Shawn Chin but his close range shot was well saved by Atlanta's Felipe Quintero.
Two yellow cards were handed out in the first half. The first went to FC Edmonton's Chris Kooy and the other to Atlanta's Jordan Davis, both for late tackles.
The halftime talks in both dressing rooms must have gotten through to the players as FC Edmonton and Atlanta started to find some offence.
First it was FC Edmonton who came close in the 48th minute when Chin took a shot from 20 yards out and hit the cross bar.
Parker was forced into his first save of the game in the 54th, albeit an easy one.
Atlanta made its second substitution in the 58th, bringing striker Emsad Zahirovic on for Jordan Davis and three minutes later defender Shane Moroney took a shot that hit the side netting.
Parker's second save was a beauty as he charged out to punch a long ball into the box away before the Atlanta striker could get to it.
FC Edmonton made its first substitution in the 66th minute brining Dominic Oppong on for Sam Lam and the change proved to be a difference maker.
Three minutes after coming on Oppong took a pass from Saiko, coolly dropped it for Craig who slotted it past Quintero for the team's first goal in five games.
Atlanta made its third and final substitution in the 74th minute bringing Jose Parada on for Kohei Matsushita in the hopes of finding an equalizer but it was Porter who directed a Craig pass past Quintero for a 2-0 lead.
Craig came off for Conrad Smith with five minutes to go and FC Edmonton was unlucky not to score a third but the team will take the two-goal victory and move on to Tampa Bay for a game on Wednesday.
UPCOMING MATCHES:
·
Wednesday, May 11 – FC Edmonton at FC Tampa Bay – 5 p.m. (Mountain) at Al Lang Stadium
·
Monday, May 23 – NSC Minnesota Stars at FC Edmonton – 7:30 p.m. (Mountain) at Foote Field
·
Tuesday, May 31 – FC Tampa Bay at FC Edmonton – 7:30 p.m. (Mountain) at Foote Field