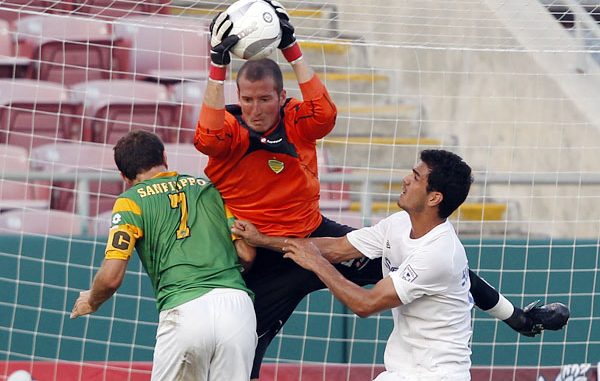 Team Returns Home With a Win and a Draw
I
n the scorching Florida heat, captain Chris Kooy secured a point for FC Edmonton in stoppage time.
The visitors dominated the midfield in the first half and outshot FC Tampa Bay but the home team had the best chances forcing keeper Lance Parker into two big saves from close range to keep the game scoreless going into the second half.
FC Edmonton came out the stronger side in the second but it was Tampa Bay that found the back of the net first thanks to a goal by Chad Burt in the 51st.
The goal seemed to fire his team up and Tampa Bay kept the pressure on forcing Parker into another save just minutes later.
FC Edmonton defender Paul Hamilton took an elbow to the face in the 75th and had to come off with John Jonke replacing him and his teammates started to pour on the pressure.
Chance after chance was launched at the Tampa Bay goal but they were either blocked or sailed high or wide.
Kooy had the side's best chance in the 83rd but his shot was well saved by Tampa keeper Jeff Atinella.
All seemed to be lost as the game went into stoppage time but FC Edmonton earned a free kick with less than two minutes to go.
Defender Alex Surprenant launched a ball into the box and forward Paul Craig knocked it down for Kooy who slammed it past Atinella and tied the game for the visitors.
The point means FC Edmonton has earned 10 out of a possible 15 on the road and move into second place in the league behind the Carolina RailHawks.
They will now fly home and have 11 days off before facing NSC Minnesota Stars at Foote Field on May 23.
UPCOMING MATCHES:


·
Monday, May 23 – NSC Minnesota Stars @ FC Edmonton – Foote Field
·
Tuesday, May 31 – FC Tampa Bay @ FC Edmonton – Foote Field
·
Saturday, June 4 – FC Edmonton @ Montreal Impact – Saputo Stadium