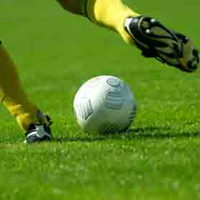 The FC Edmonton Keeper Has Replaced Baart for the Last Three Games
FC Edmonton's Lance Parker has been named the NASL's Defensive Player of the Week for Week 6.
The 6'4", 200-lbs goalkeeper has played three games in a row after backing up Rein Baart for the first five games of the season (including Nutrilite Canadian Championship games).
In the three games that he's appeared in, Parker has a meager 0.50 Goals Against Average – best in the league for keepers who have played at least 100 minutes. Against FC Tampa Bay on Wednesday, Parker organized a defence that pulled Tampa offside eight times and made numerous timely saves from close range to earn his team another point on the road.
Carolina's Etienne Barbara was named the NASL's Offensive Player of the Week for Week 6.
UPCOMING MATCHES:
• Monday, May 23 – NSC Minnesota Stars @ FC Edmonton – Foote Field
• Tuesday, May 31 – FC Tampa Bay @ FC Edmonton – Foote Field
• Saturday, June 4 – FC Edmonton @ Montreal Impact – Saputo Stadium