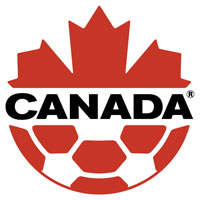 Canada has won its opening match at the 2012 CONCACAF Women's Under-17 Championship, putting six unanswered goals past Panama in the Wednesday 2 May match at Estadio Cementos Progreso. Nichelle Prince, Jasmin Dhanda and Summer Clarke (three) all scored in the first half before Amandine Pierre-Louis finished the scoring early in the second half.

Hat trick hero Clarke was Canada's player of the match. She became Canada's first footballer to score three goals in the short history of the CONCACAF Women's Under-17 Championship. She is also the first Canadian to score a hat trick in a competitive women's youth match (CONCACAF or FIFA) since Jodi-Ann Robinson did the trick in a 2006 CONCACAF Women's Under-20 match.

Prince, Dhanda and Clarke all scored for Canada inside the first 22 minutes. Prince was the first to score after she intercepted a poor kick by Yerenis De Leon in the seventh minute. Prince took a few strides before firing a shot past the helpless goalkeeper Karen Chavarria.



Five minutes later, Dhanda made it 2-0 after the ball came to her feet, again with noone to defend the Canadian attacker. So Dhanda went forward, deked around the on-rushing Chavarria at the top of the box, then fired the ball into an empty net for a Canadian goal.

Just before the midway point of the first half, Clarke first created an excellent chance, sliding a low cross past Chavarria through the six-yard box. Unfortunately, Prince could not reach the cross in time to knock it in. A minute later, Clarke was again inside the box, but this time with more space to work on her own. Without hesitation, she fired a shot past Chavarria for a 3-0 lead.

Clarke then scored two more goals near the end of the first half. In the 39th minute, she controlled a Nicole Loncar cross off her chest before blasting it past Chavarria for a 4-0 lead. Two minutes later, Canada made it 5-0 on a combination by Madeline Iozzi (corner), Ashley Lawrence (header) and Clarke (the hat trick).

Early in the second half, Pierre-Louis made it 6-0 less than a minute after entering the match as part of a double substitution. Her goal in the 51st minute was scored on a low cross from the top corner of the box, again beating Chavarria with little difficulty.

While goalkeeper Kailen Sheridan posted a clean sheet for Canada, it was not without a bit of work as Panama found several opportunities to attack the Canadian end. Marta Cox created a good chance in the first half (saved by Sheridan) while Karla Riley had a turn of her own in the second half
(just wide of the target).

Canada's starting XI featured Kailen Sheridan in goal, Lindsay Agnew at right back, Kadeisha Buchanan and Rebecca Pongetti at centre back, Madeline Iozzi at left back, and Summer Clarke, Rebecca Quinn, Ashley Lawrence (captain), Jasmin Dhanda, Nichelle Prince and Nicole Loncar from the midfield up through to the attack.

In the second half, coach Bryan Rosenfeld switched Clarke for Valérie Sanderson (51′), Dhanda for Amandine Pierre-Louis (51′), and Quinn for Sabrina Santarossa (78′).

Panama's starting XI featured Karen Chavarria (goal), Yerenis De Leon (captain), Yomira Sanford, Astrid Diaz, Katherine Castillo, Laurie Batista, Yanis Sanjur, Karla Riley, Marta Cox, Kenia Rangel and Yassiel Franco.

In the second half, coach Luis Tejada replaced Castillo with Astrid Gonzalez (67′), Cox with Genesis Samuels (67′), and Sanford with Katherine Gonzalez (74′).