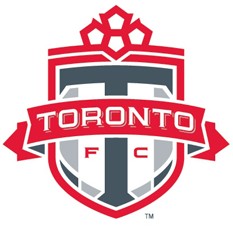 Toronto FC will take on expansion franchise Philadelphia Union in their home opener tonight at 7pm in what should be a lively atmosphere at a packed BMO Field.
The team is 0-2 on the year thus far but are excited and anxious to play in front of the home crowd after disappointing losses on the road.
"It's great. I enjoy the atmosphere, I enjoy the support we get and the fans coming out," said team captain Dwayne De Rosario. "We can't let ourselves down from a disappointing result last week, we have to stay positive and look forward to this home game. It's going to be a great atmosphere."
With several new players coming into the fold, De Rosario pointed out that many of them will be in for a culture shock when they finally witness how passionate the TFC fans can be.
"We have to be careful with some of the guys, they're new and they haven't experienced this kind of exposure and haven't experienced this type of passion in terms of fans. The fan base is very knowledgeable, they're very passionate and they want to see us do well."
Another reason for excitement is the fact that TFC will play their first home game on a new permanent natural grass surface. The team also added an additional 1200 seats to BMO Field and a new dugout as well.
TFC Introduce New Defenders
TFC has undergone sweeping changes from last season – much of the roster has changed and there is a new head coach, Predrag "Preki" Radosavljević. The team has signed several players in the past month including two new signings this week – defenders Adrian Cann and Maksim Usanov.
Cann has spent the last two seasons in the Danish League but has also had previous stints with the Montreal Impact and the Vancouver Whitecaps. Cann, originally from the Toronto area, is excited to play at home and will no doubt have his share of family and friends in the crowd tonight.
"It's wonderful to be back in Toronto," said Cann. "It's my home city, there's nothing better than that."
Usanov has come over from Russia where he has played the last two seasons, and prior to that he played for Latvian club FC Skonto.
Being Patient
It's understood that fans in Toronto can be a fickle bunch and as with any professional sporting team in this city, success will ultimately be measured by how many games TFC will win. Especially since the team has yet to make the playoffs in its three years of existence.
"I always said from day one, this is not a project that's going to happen overnight," said Preki. "It's going to take us some time to build and be good for a long time. It's not for a couple of games here and there."
"Now we finally have 20-22 guys in training and it's going to take a little bit of time to find our rhythm. Some of the guys that have been injured are looking better and better every day and that's a really good thing to see for us. But once we get everybody healthy and competing for spots that's when I hope we're going to peak and play some good football as well."
De Rosario is preaching patience as well.
"It's going to take quite some time and we ask everyone to be a little patient. We need as much positivity surrounding the team as much as possible including within the team. That's what I'm trying to do as captain and continue to keep guys heads up, continue to keep them motivated and plug through and work hard every practice to get better in certain areas and collectively as a unit we should be just fine.
Playing a Complete Game
In order for TFC to pick up its first victory of the season, the team will need to put together a complete game and minimize their mistakes.
"Individual mistakes have to come down to a bare minimum and right now they're pretty high," said coach Preki. "We have to be mentally tougher and when things go against you, you can't just put your head down and be in shock, you need to recover right away."
"I thought there were a lot of positives in the first half. It was just the disastrous 15 minutes where we handed the game away. That was disappointing but there are a lot of good things to build on. Hopefully we can put 90 minutes together."
Contact Aman Dhanoa at aman@oyetimes.com