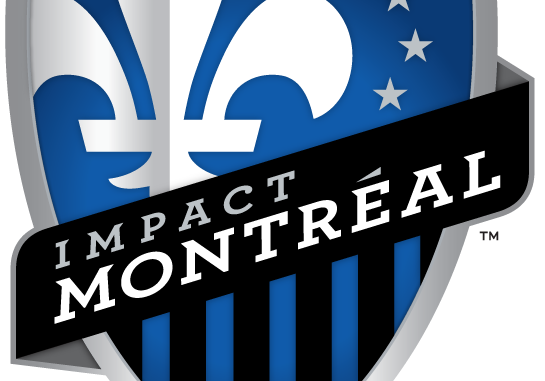 The Montreal Impact (9-13-3) will go for a third consecutive win as the team will visit the New England Revolution (6-11-5) this Sunday at 7pm (ET), at Gillette Stadium, in Foxborough, Massachusetts.
The Impact and Revolution will go head-to-head for a second time this season. The Impact won the first game by a score of 2-1, on July 18 at Stade Saputo. Sanna Nyassi, who was playing against his twin brother Sainey for a third time in his career, scored the game winner.
The Impact is currently battling for a playoff spot and sits in sixth spot of the Eastern Conference, five points behind the Chicago Fire. The Revs are eight in the Conference with 23 points.
Pregame comments
"The Revolution did well when they came to Montreal and we expect a tough game when we go there," said Impact head coach Jesse Marsch. "It's not an easy place to play and get a good result. We'll play on a small pitch and it will be important to be solid defensively and take advantage of our opportunities."
"We had a good result at home against them, but this time we're in their stadium, on an artificial pitch," said midfielder Patrice Bernier. "Their team has had ups and downs this season, but they've played well and caused us some problems in the first game. They play a lot of short passes, so it's up to us to be careful and stop their ball movement. We have to keep the same mentality as in the last two games and keep our winning streak."
"The last game against them was not easy," said defender Jeb Brovsky. "They like to use the full width of the field and play balls behind the defence. We'll have to be tight defensively and keep doing the things that have enabled us to get the clean sheet against Philadelphia."
Team news
In the last game last Saturday at Stade Saputo, the Impact beat the Philadelphia Union 2-0. Brazilian midfielder Felipe scored a superb goal in the second half, earning the Goal of the Week in MLS. Felipe also leads the team and is seventh overall in the league with eight assists.
Selected by the Canadian national team against Trinidad-and-Tobago next Wednesday, midfielder Patrice Bernier is the team's best goalscorer with six goals this season.
Goalkeeper Troy Perkins, who was acquired by the Portland Timbers in return for Donovan Ricketts, will play his first game with the Impact Sunday.
Designated player Marco Di Vaio, who missed the last game against Philadelphia to travel to Italy, will also be available for the game. Di Vaio was acquitted on Friday, following a match-fixing scandal during a Serie A game, in Italy.
Defender Nelson Rivas will not be available for the game as he will be serving a three-game suspension for a headbutt in the last game.
Forward Eduardo Sebrango has joined the injury lista, following a shoulder injury suffered in the Reserve League game against Philadelphia, last Sunday.
INJURY REPORT: OUT D Zarek Valentin – Left ankle sprain; F Bernardo Corradi – Left knee ACL tear, F Eduardo Sebrango – Left shoulder separation; QUESTIONABLE D Alessandro Nesta – Right knee sprain
Revolution News
The New England Revolution is winless in its last five games (0-4-1), since July 8 against New York. In its last game, the Revolution lost 1-0 at home against Sporting Kansas City.
However, the team has record of 5-3-3 this season at Gillette Stadium.
The Revolution made one of its most important trades in team history on August 1 when the club sent team captain Shalrie Joseph to Chivas USA for midfielder Blair Gavin and allocation money. Gavin should not be available for the game following a left hamstring injury.
Colombian forward Jose Moreno was also waived by the team.
Forward Saer Sane is currently leading the Revolution with nine goals in 21 games this season. Midfielder Chris Tierney is the team leading playmaker with four assists.
Since being acquired from the Vancouver Whitecaps FC, midfielder Lee Nguyen has scored four goals for New England, including the lone goal by the Revs in the first matchup against the Impact.
New Revolution Designated Player, Honduran forward Jerry Bengston should be available Sunday, after participating to the Olympics, in London.
Midfielder Benny Feilhaber is currently second in the league with 59 suffered fouls, just behind Impact team captain Davy Arnaud with 65. During the loss against KC, Feilhaber played as central midfielder with Clyde Simms, in a 4-4-2 formation.
Next games
Both teams will also meet in an MLS Reserve League game, Monday at 10am at Gillette Stadium. The Impact has a record of 3-2-1.
They will face each other for the third and last time of the season at Stade Saputo next October 27, in the Impact last regular-season game of the year.
The club will return home on Saturday, August 18, to take on the Western Conference leading San Jose Earthquakes at 7:30pm (ET) at Stade Saputo.
In the meantime, the Impact U21 (5-2-4), back from its trip to France, will play its next two games on the road, facing London City tonight at Cove Road Stadium, before facing the Windsor Stars tomorrow.
Game Notes
The Montreal Impact is currently first among MLS teams with seven goals on penalty kicks, 78 offsides and 321 fouls committed, as well as third with 327 shots and tied for fourth with 35 goals.
Midfielder Davy Arnaud has scored six career goals against the New England Revolution.
Goalkeeper coach Preston Burpo played 11 games with the Revolution in 2011, and also played with the Boston Storm in 1995, in the USISL.
Defender Hassoun Camara earned his first MLS career assist, last Saturday against Philadelphia.
Midfielder Justin Mapp needs just one assist to reach 50 career MLS assists.
The Impact has already scored 35 goals this season, five goals short of the expansion record set by the Portland Timbers in 2011 with 40.