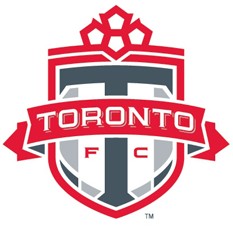 Toronto FC announced Thursday that three players have been named to Canada's roster for the upcoming Friendly against Peru on Saturday, September 4 in Toronto. Defender Nana Attakora and midfielders Julian de Guzman and Dwayne De Rosario were all named to the 20-man squad by head coach Stephan Hart earlier today. Canada will also face Honduras on Tuesday, September 7 in Montreal.
Attakora will be making his second appearance with the senior team after earning his first cap in January 2010 in a Friendly against Jamaica where he played 19 minutes.
De Guzman will be looking to earn his 44th cap with the squad and also made his last appearance in 2010 in Kingston, Jamaica. Toronto FC Captain Dwayne De Rosario is the most capped player of the three and will be making is 55th appearance. De Rosario was a member of the squad that played in Argentina on May 24 earlier this year, logging 89 minutes. He has scored 15 goals for the National squad.
Toronto FC plays Saturday, September 4 in Dallas, and follows that up with a game Wednesday, September 8 in Chicago.
The team is back in action in MLS this Saturday when they will face defending MLS Cup Champions Real Salt Lake in a 7 p.m. ET kick-off at BMO Field. The match will be broadcast on Rogers Sportsnet, and can also be heard on The FAN 590.