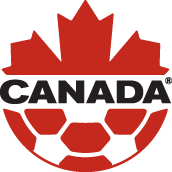 Canada's women's U-17 team will meet Brazil on Monday night with a place in the last eight of FIFA U-17 Women's World Cup Trinidad and Tobago 2010 on the line. Canada comes into the match knowing that only a victory will guarantee its progression out of Group D and into the knockout stage of the competition. Monday's crucial match will kick off at 19.00 ET / 16.00 PT from the Mannie Ramjohn Stadium in Marabella, Trinidad. Canadian fans can catch the match live on CBC Bold and streamed at CBCsports.ca.
"We need to score goals and we need to win, period" said head coach Bryan Rosenfeld. "Brazil will be a tough opponent as they are a physically strong team full of good athletes. Their ability to protect the ball and play themselves out of tight areas is very good. We're going to have to really go for this match and put together a complete team performance against Brazil on Monday."
Canada and Brazil have taken similar paths to set-up Monday's showdown. Canada opened the competition with a 1:0 win over Ghana before slipping to a disappointing 0:1 defeat to the Republic of Ireland on a late goal. Brazil also opened the competition with a win over Republic of Ireland but was then beaten 0:1 in its second match against Ghana. All four teams in wide open Group D are tied on points (three) and on goal differential (even) after two matches. Brazil and the Republic of Ireland lead the group by virtue of more goals scored (2 each) compared to Canada and Ghana (1 each). Canada could mathematically still advance with a draw but would require the Ghana-Republic of Ireland result to go its way.
While Canada and Brazil face off in Marabella, the Republic of Ireland and Ghana will play their final Group D match at 19.00 ET on Monday night at Dwight Yorke Stadium in Scarborough, Tobago. Both Group D matches will kick off concurrently.
Canada's women's U-17 team has been in this position before. Needing a win against a seemingly unstoppable USA team in the semi-final of the CONCACAF U-17 Championship, Canada's young stars committed to each other and committed to the game plan to register a shock defeat of the USA and book their place at FIFA U-17 Women's World Cup.
Fast forward seven months and Canada is once again in need of a victory against a strong opponent. Having failed to play to its full potential through its first two matches at Trinidad and Tobago 2010, the Canadian squad closes out group play against Brazil knowing that it will have to lift its level of play as it goes in search of a victory to guarantee its advancement to the quarter-final stage.
"Our first priority having played two games was to have a good recovery and allow our players to have adequate rest before for our last match," said coach Rosenfeld. "Our performances have been mixed thus far and we are looking to put all of our best qualities together for our last match knowing that we need a victory against Brazil. We've been stressing to our players the need to commit physically, mentally and emotionally to the game plan."
Canada has faced Brazil seven times at the senior level splitting the series evenly, with each side recording three wins, 1 draw and three losses.
Canada, whose title sponsor is BMO Financial Group, is participating in its second FIFA U-17 Women's World Cup. Two years ago, at New Zealand 2008, Canada reached the quarter-final stage before losing out to Germany.